Sensational celebrity engagement rings updated

Everyone, even the most obstinate person among us, would admire and enjoy a good hype surrounding the celebrity diamond engagement rings. We love celebrating those extravagant engagement stories not only because it's cute but because these A-list celebrities possess some of the most brilliant, sensational diamond engagement rings ever! 
If last year's sensational celebrity engagements were all about celebrities like  Katy Perry and Orlando Bloom, Jennifer Lopez and Alex Rodriguez and Emma Stone And Dave McCary, the year 2020 is obsessed with the romantic engagements of Brooklyn Beckham and Nicola Peltz and Demi Lovato and Max Ehrich. The latest on that list will be Actor Matthew Perry, best known for playing the role Chandler Bing in the popular sitcom, Friends, and Molly Hurwitz. (Woo-pah!) 
Apart from the glamour and glitz, what makes the celebrity engagement rings sensational in the eyes of the public is the lump sum money involved with it. After all, the saying, 'Diamonds are forever' sounds true especially if the ring is adorning the hands of a celebrity. So, get ready to be blown away by some sensational celebrity engagement rings that might probably cost a few million.
 Demi Lovato and Max Ehrich
Even though the couple called off their engagement in September 2020, two months after getting engaged, the ring he proposed was worth a fortune. The stunning 10-carat (or more) emerald-cut diamond was set on a platinum band placed between two trapezoid-shaped smaller diamonds and was designed by the famous, celebrity-favourite jeweller, Peter Marco. According to TMZ, the ring must cost somewhere between $2.5 to $5 million.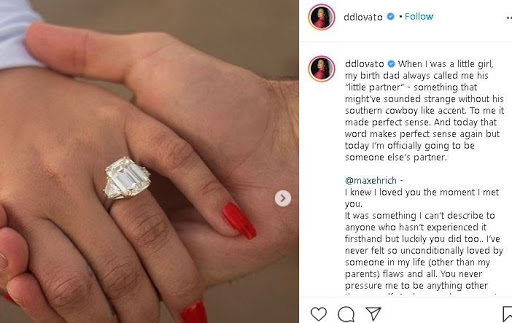 Priyanka Chopra and Nick Jonas
Nick Jonas shut down an entire store of Tiffany & Co in New York City to choose the perfect ring for PeeCee.  He proposed to his ladylove on her birthday with a beautiful 5-carat, cushion-cut diamond that reportedly cost around $200,000. Their wedding was a grand affair with a day-long wedding ceremony at the Jodhpur Umaid Bhavan Palace in Indian style. Their wedding endorsed some major brands like Tiffany, Elit Vodka, Lime Bike and Amazon. Their wedding attires were custom-designed by Ralph Lauren (the fashion designer made an exception for the couple as he never designed a wedding gown for anyone outside of his family). The gown PeeCee wore for the Christian wedding ceremony took the team 1,826 hours to finish just the embroidery while the red lehenga she wore to the Hindu ceremony took 3,720 hours with 110 embroiderers to finish.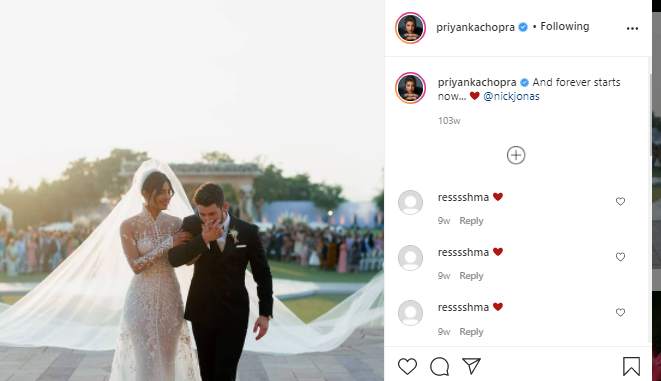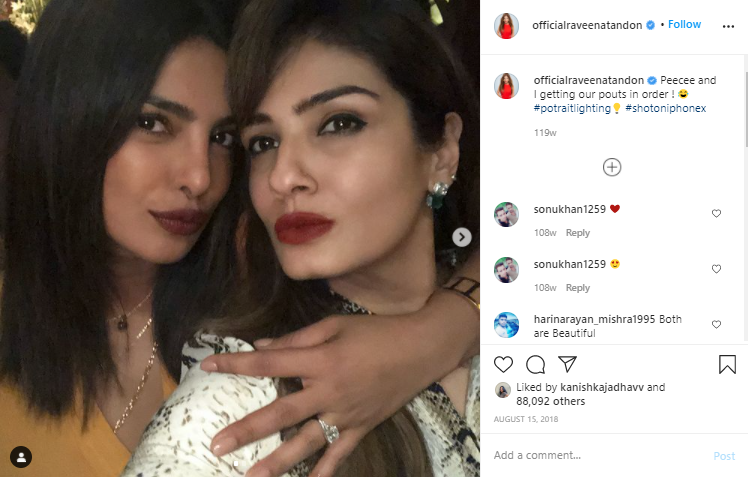 Deepika Padukone and Ranveer Singh
This gorgeous couple had their destination wedding in an 18th-century property called Villa Del Balbianello by the Lake Como, Italy. They had their twin wedding ceremonies planned both in Konkani-style and an Anand Karaj (Sikh marriage ceremony). Even though there were many rumours regarding the engagement ring, we all got a good look at the 'giant' diamond ring on her finger at their wedding ceremony pictures. It was an emerald-cut diamond solitaire perfectly adorning the hands of the bride. Going by its size, and the reports from Bollywoodlife the ring must cost somewhere between Rs. 1.3 to 2.7 crores. The bride and the groom took the internet by the storm with their red Sabyasachi designer clothes. 
Sonam Kapoor and Anand Ahuja
Sonam Kapoor married her long-time boyfriend, Anand Ahuja, in Mumbai in a traditional Sikh wedding ceremony, We got a glimpse of her engagement ring during her Cannes visit. As per the reports, this sparkling solitaire costs 90 lakh. For the Anand Karaj, she wore a beautiful, traditional red and gold lehenga designed by Anuradha Vakil, an Ahmedabad based designer.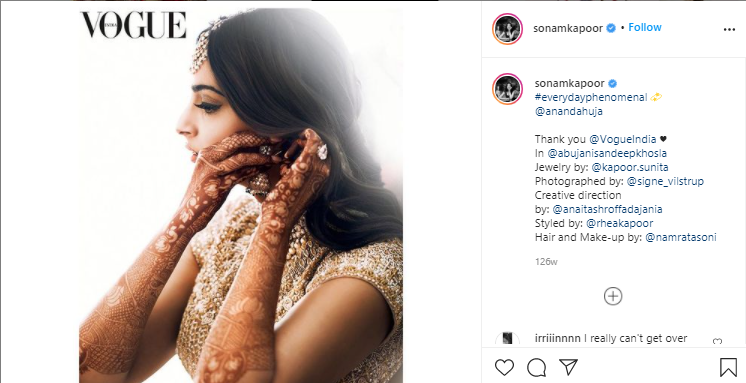 Meghan Markle and Prince Harry
After meeting on a blind date in 2016, Prince Harry and Meghan Markle dated for almost one-and-half-year before getting engaged. Their engagement ring holds plenty of meaning and is designed by Prince Harry itself. A combination of the past and present, the large Blue Sapphire to the center of the engagement ring was sourced from Botswana (the couple spent time there during their courtship) and the two smaller round diamonds to the sides were from his late mother, Princess Diana's jewellery collection. The whole design was put together by the Royal jeweller, Cleave & Company on a yellow gold band. Almost a year after their wedding, after the birth of their first son, Prince Archie Harrison Mountbatten-Windsor, fans noticed an alteration to the engagement band. The solid yellow gold band got replaced by a thin micro-pave diamond eternity band.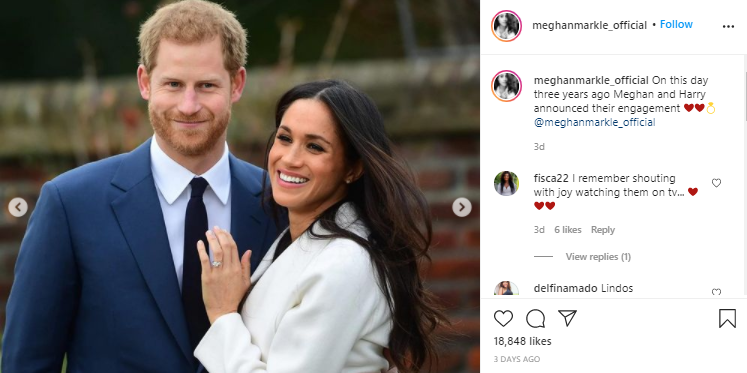 Katy Perry and Orlando Bloom
Engaged on a Valentine's Day, this A-list couple captured hearts with their unique engagement ring. The Lord of the Rings Star proposed to the pop diva with a unique, huge, cluster ring in the shape of a flower (Mrs Bloom!). The ring featured a huge, deep-pink, oval-cut centre stone with eight smaller round-cut diamonds around it, giving it a flower shape. The couple boarded a Helicopter from Italy and proposed in the sky. Katty Perry shared the picture of her engagement ring on social media, captioned, Full bloom.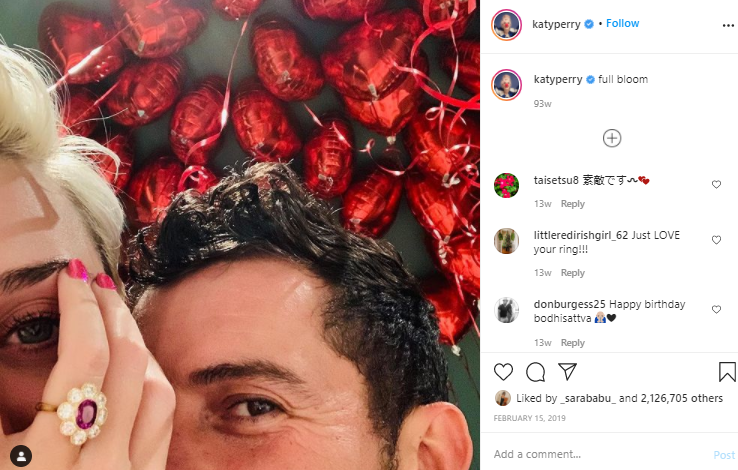 Jennifer Lopez and Alex Rodriguez
Former professional baseball shortstop, A-Rod (Alex Rodriguez) proposed to J.Lo (Jennifer Lopez) while the couple was vacationing in the Bahamas. The ring features a huge emerald-cut colourless diamond of highest quality. According to experts, the ring should cost upwards to $5 million and could be around 15-carats to 20-carats.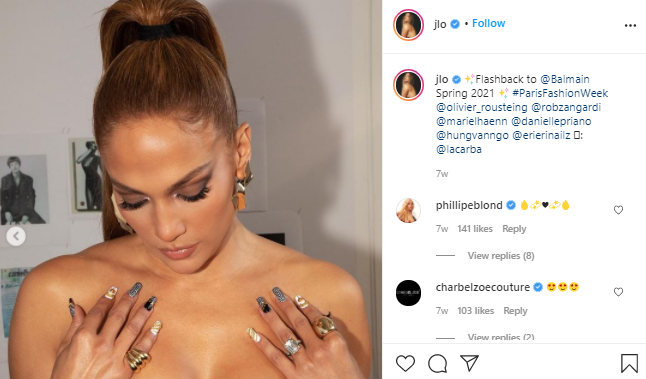 This American Singer, Actor and Producer have had five engagements so far, meaning 5 engagement rings! Her first engagement was with Ojani Noa (Restaurateur) in 1997 and he gifted her a pear-shaped diamond engagement ring. She met her second husband, Cris Judd, in 2001, who proposed to her with an elongated emerald-cut ring, set in platinum. In 2002, she received a 6.1-carat radiant-cut fancy pink diamond designed by Harry Winston from her then-fiance, Ben Affleck. Her ex-husband, Marc Anthony, proposed to her with a Harry Winston diamond of 8.5-carats. The diamond was of a rare blue colour. 
Hailey Baldwin and Justin Beiber
Even though the couple had their friendship going on for almost 10 years, their engagement and wedding happened so suddenly and secretive. Within a month of dating, the couple got engaged and got married in some secret ceremony. On a vacation to the Bahamas in 2018, Beiber proposed to his lady love with the beautiful 10-carat oval stone set on a diamond-encrusted band by NYC Jeweller Jack Solow of Solow & Co.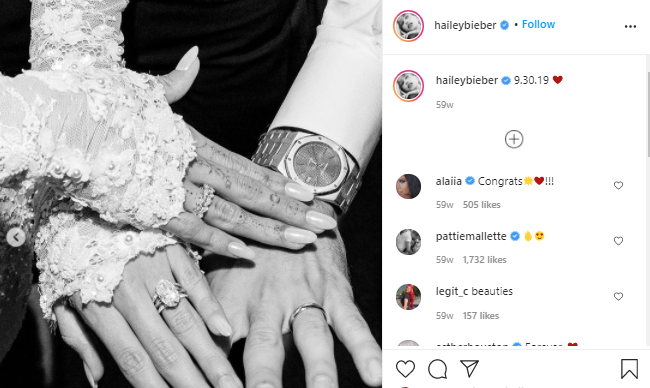 Sophie Turner and Joe Jonas
Unlike other celebrities, the Game of Thrones star didn't keep her engagement ring secret. Both she and Jonas shared a close-up picture of the ring on social media when they got engaged in 2017. The ring consists of a big Pear-cut diamond set on two slender bands, studded with pave diamonds to the sides. They shared it on social media with captions pretty simple, but romantic. While Sophie wrote, "I said Yes", the DNCE singer wrote, "She said Yes."

Kate Middleton and Prince William
Even though the wedding between Catherine Middleton (byname: Kate) and William, Duke of Cambridge happened a long time back (2011), their astounding blue sapphire engagement ring remains a phenomenon. It was a 12-carat oval-cut ring surrounded by smaller yet beautiful 14 solitaire diamonds, set in 18-carat white gold.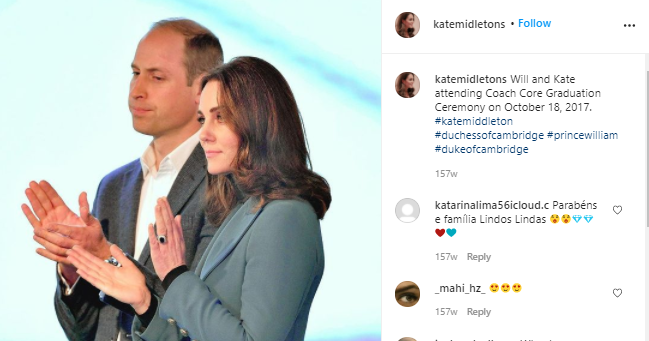 The history of the Blue Sapphire and the Royal family dates back to the 1840s when Prince Albert (Husband to Queen Victoria) decided to make a diamond brooch (designed by a British jeweller Garrard) for his future wife, Queen Victoria. The Queen loved the gift so much that she decided to wear it to her wedding. She wore it until her husband's death in 1861 thus becoming a crown heirloom. The brooch has been worn by Queen Elizabeth II on many occasions. Later, when Prince Charles was looking for a suitable ring for his ladylove, Princess Diana, he ended up setting a cluster ring with a blue sapphire diamond set to the middle (inspired from the brooch). Prince William will eventually inherit the crown jewels along with the blue sapphire brooch.  
Portia de Rossi and Ellen DeGeneres
Portia de Rossi and Ellen DeGeneres, the two funny ladies on television hit it off backstage on an award night in 2004. Ellen proposed to Portia while they were looking at their new pet goldfish. The ring featured a large marquise diamond of 3-carat accented by smaller pink diamonds designed by Neil Lane.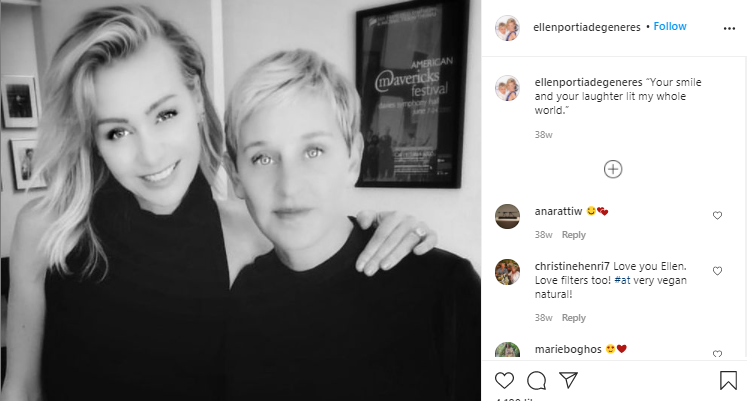 Lady Gaga and Christian Carino
The ring from her previous engagement with Taylor Kinney, the famous heart-shaped diamond was a hit. The 6-carat diamond ring designed by Lorraine Schwartz with their initials T <3 S (S stands for her real name, Stefani) engraved to it symbolised their ring. When Christian Carino proposed to the diva, we never thought he could upstage her old engagement ring. Her new engagement ring features a pink sapphire (or Padparadscha sapphire) with a diamond halo. The estimate shows that the centre stone would be of 6-carats or more and that of the halo diamonds would be 4-carats.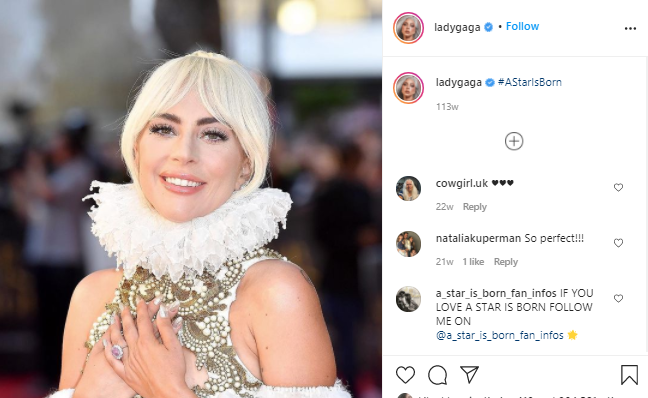 Zoe Kravits and Karl Glusman
Actor Zoe Kravits and her boyfriend, Karl Glusman, took an unusual route than the rest of the A-list stars by choosing a beautiful antique diamond ring from an antique dealer on Instagram. Kravits found this 18th-century one-of-a-kind diamond ring online and a friend led Glusman to the ring. The diamond engagement ring features a row of rose-cut stones with gold settings on a half-loop band.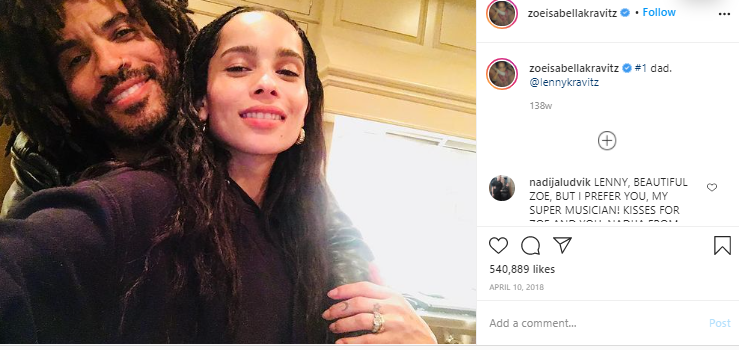 Eva Longoria and Jose Antonio Baston
The Desperate Housewives actor, Eva Longoria got engaged to her now-husband, Jose Antonio Baston, in 2015 in Dubai. The engagement ring featured a big 6-8 carat red ruby surrounded by a halo of diamonds.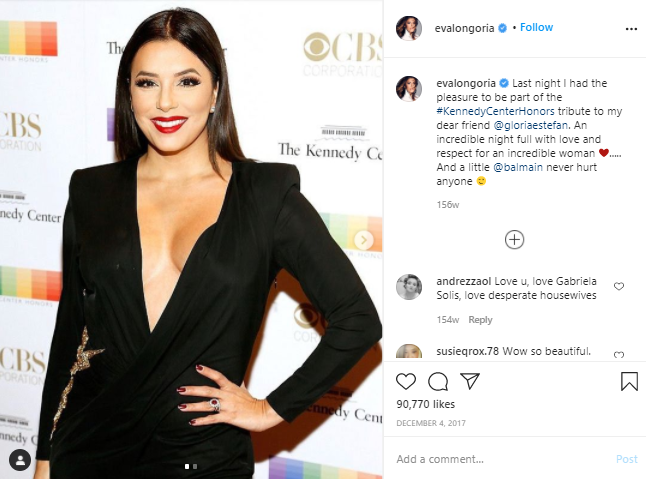 Anne Hathway and Adam Shulman
For this Oscar winner and her now-husband, Adam Shulman, it was love at first sight. A jewellery designer himself, he designed the ring for his ladylove along with Kwiat Jewellers. The ring featured a 6-carat emerald-cut design (conflict-free diamond) set on a platinum band with pave diamonds along both the sides. The ring is said to be worth &150,000. 
https://www.instagram.com/p/BSjypsqjKTb/
Jessica Biel and Justin Timberlake
This power couple met at the Golden Globes Awards ceremony and later started dating. JT proposed to JB during a winter vacation in Jacksonville, Wyoming with a mesmerizing 6-carat diamond ring. Since then, the two of them have been one of the cutest celebrity couples in Hollywood.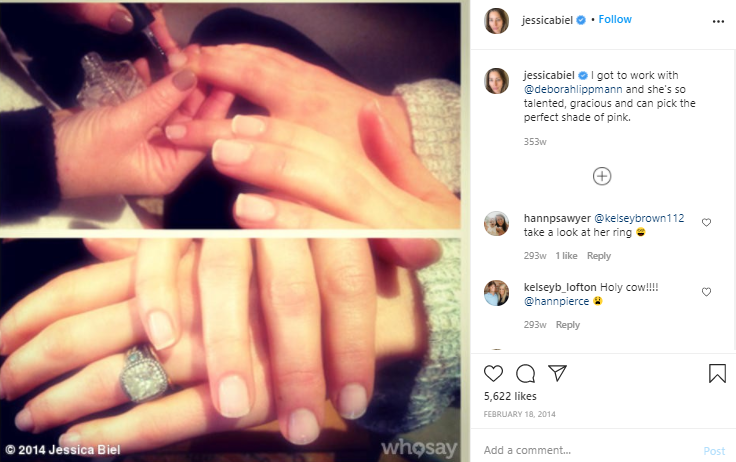 Hope you enjoyed our list of most sensational celebrity diamond engagement rings around the globe.