Trending Couple Rings: Everything You Need to Know Before You Plan Out Your Buy

Despite the fact that love is a common emotion, no two relationships are alike. So, when it comes to sharing your love for that special person, think of something as one-of-a-kind as the bond you two share. Couple rings are certainly a way to do this.
Couple rings have a wide variety of symbolism and are worn to display your devotion to one another. However, their meaning varies from couple to couple. Couple rings are a statement of equality within a relationship, representing your love and commitment to one another, even if you don't intend to get married.
 https://media.giphy.com/media/454zKI1qMge0sA4SlR/giphy.gif
The idea of shopping for a couple of rings together with your partner can seem to be quite confusing for most couples as there's this nagging social requirement that the idea is unexpected and strange. But does this say that you won't be able to shop for a couple of rings ever together? Definitely not!
What options you have for ring shopping with your partner?
Simply bring it up with your partner! Let him/her know that you're ready to take your relationship to the next level and that you'd like them to be a part of the whole ring-shopping process, whether that means visiting jewellery stores or designing a ring in a design studio. If you are ready to choose this, the rings will be sent to both of you as a couple; once designed or purchased. If you want to keep the element of suspense whatsoever, another choice is for you and your partner to visit a studio together and then have the other leave after the studio gets a sense of their preferences. Cool right?
But how exactly are these couple rings different from the traditional engagement rings? Couple rings are a modern idea and a way for couples at every point of their relationship to show their affection and celebrate special moments they've shared. A couple of rings can be followed by an engagement ring to symbolize the promise of marriage. A formidable step into the next phase in your life!
Is it customary to wear couple ring on a single finger?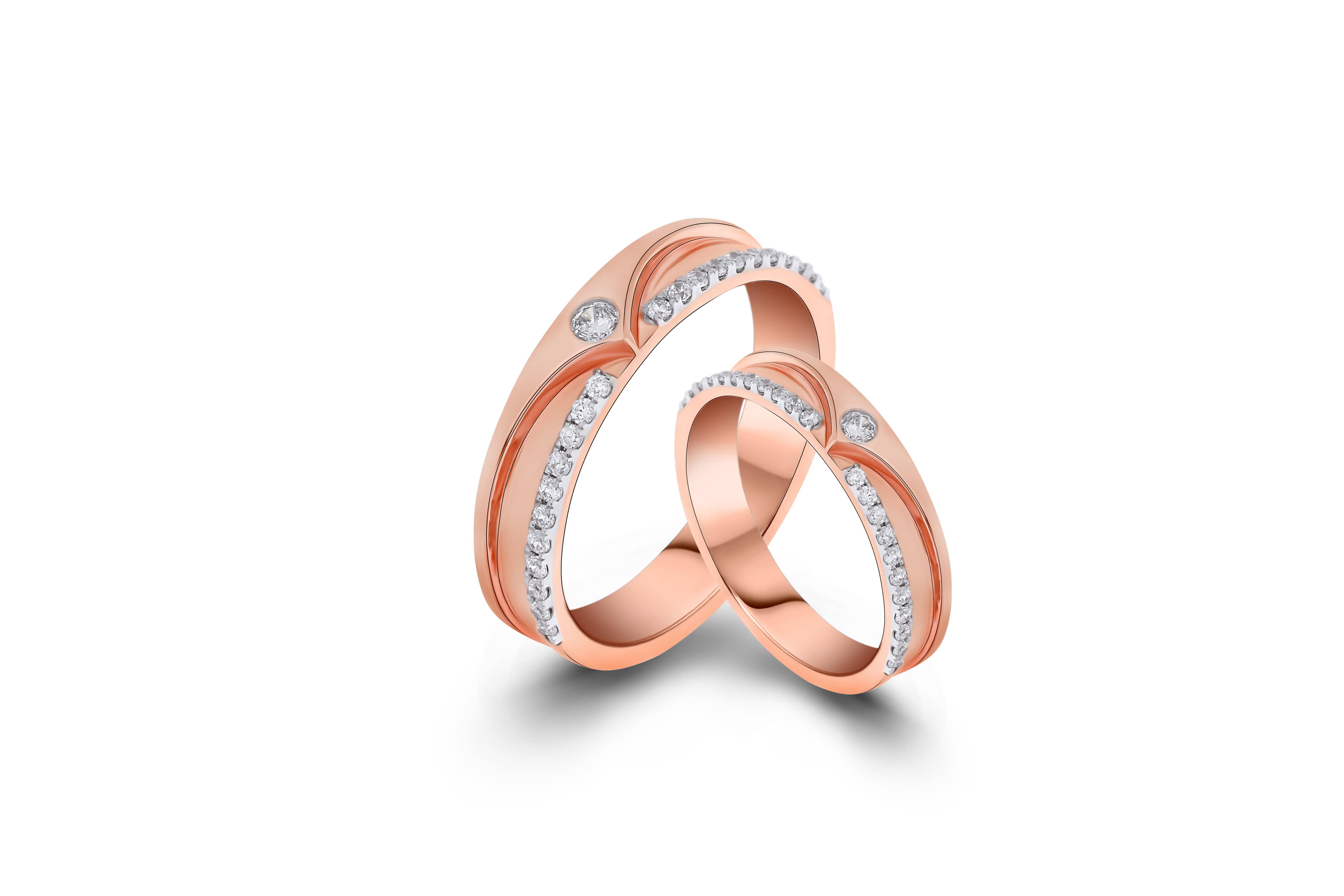 Engagement rings and wedding bands are usually worn on the left hand's ring finger, but pledge and engagement rings can also be worn there. In the end, however, it's up to you to decide on which finger you should wear your ring because when it comes to rings that express how much you love someone else, there are no fixed rules to follow; just follow your heart!
How to select the ideal couple rings?
Couple rings are always appealing because they encourage you to express yourself. Although diamond size and number of diamonds are important factors to consider when selecting engagement and wedding rings, your couple rings are a perfect way to get a  taste of a  more experimental diamond ring design. Choosing rings that express your personality is the key to finding rings that are right for you and your partner.
To make your ring collection stand out,  Sunny  Diamonds suggests you to be imaginative and focus on one aspect that overlaps. Choosing the custom option is the simplest way to make your rings one-of-a-kind. This gives you almost complete creative freedom and allows you to create something truly unique. However, custom work can be costly and time-consuming, so it's not for everyone. If you'd rather shop for your couple rings, take a look at the 5 stunning choices below.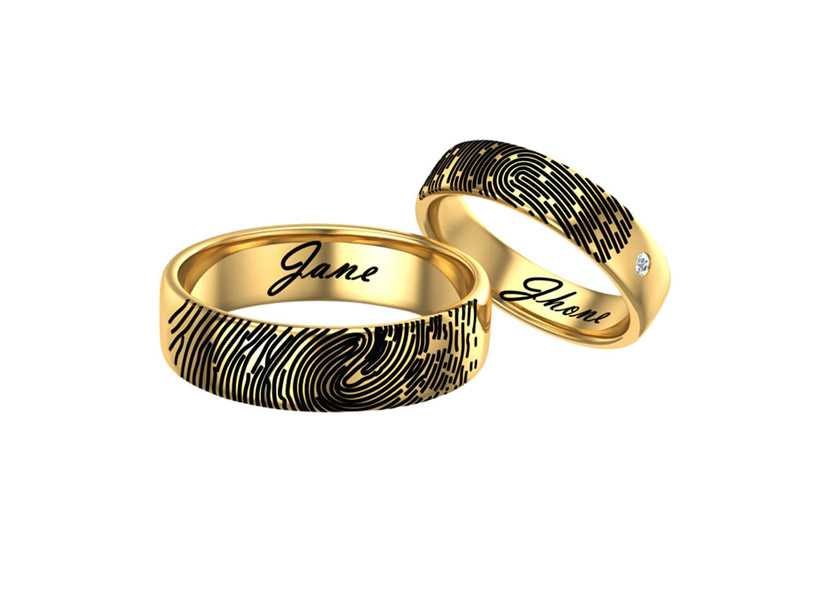 Unique in their style, Fingerprint couple rings are one of the best that you could ever choose. The ring's wideband is both masculine and feminine, and the bold names engraved in them are a mark of affection and love.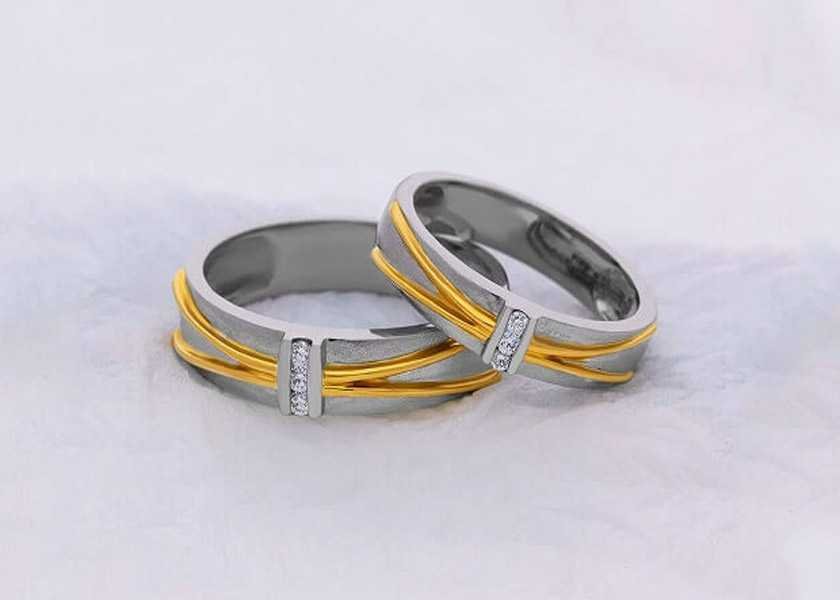 A beautiful couple band pattern, Tasia looks ravishing with those tiny diamonds encrusted on the cross lines if you are looking for rings that are out of the normal. A perfectly united platinum and gold combo makes it more attractive even at a first glance.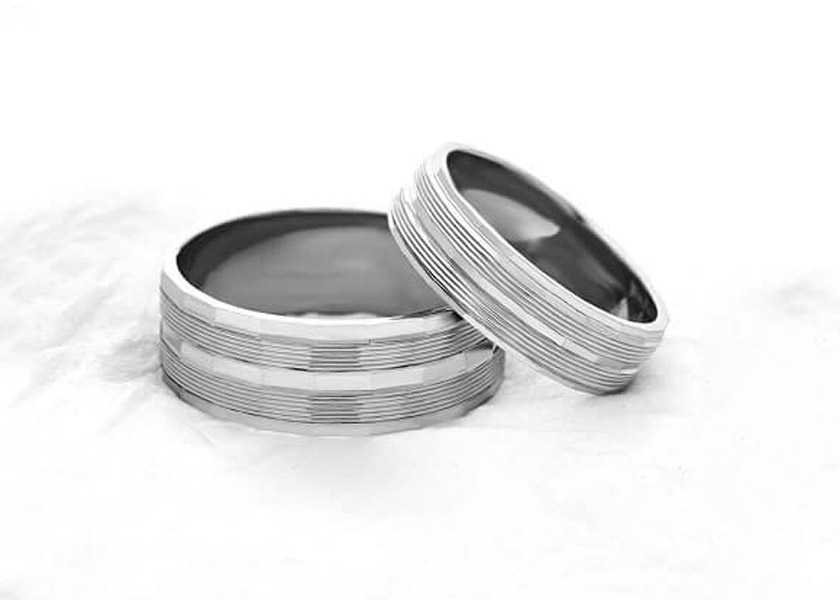 An exclusive design set in platinum symbolizing true love and purity, Belva is a couple diamond band with a glossy finish with grooved arcs forming a spectacular design. This band has a unique style, with narrow grooved strokes,  and is big enough to be worn alone, but it'd also look fantastic if stacked.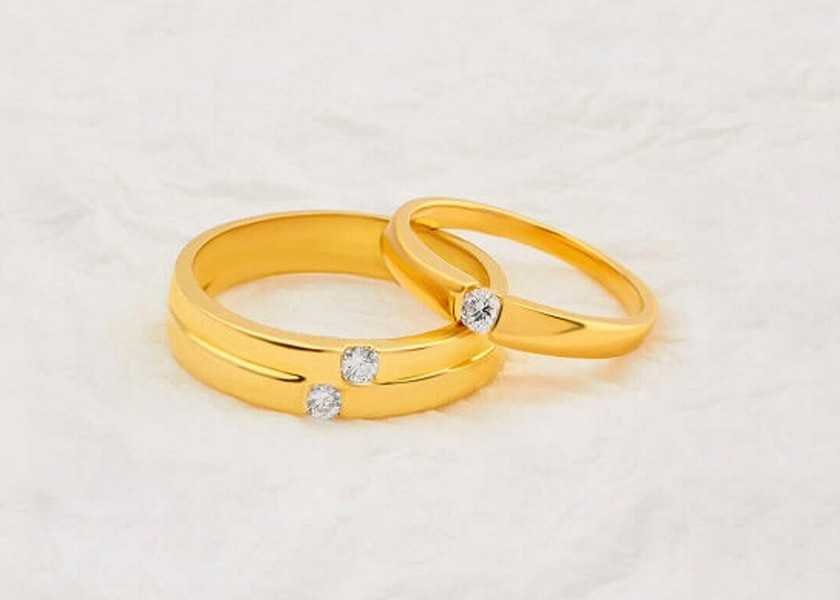 This set of rings complements each other nicely without being identical with the two intertwined bands making up one ring, while the other more simple and wide. These are made even more fascinating by the internally flawless diamonds set intricately in each of them.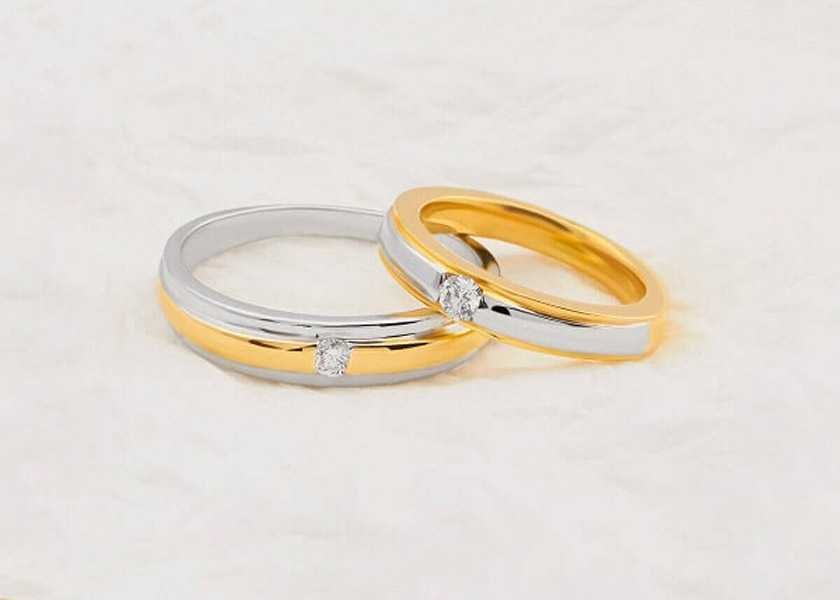 To symbolize their purity and strength, a couple diamond engagement band with a glossy dual-tone finish set in platinum is simple and pure. The use of two different metals is what really sets Alivia apart from the others in trend.
The best stores to buy couple rings
One of the frequently asked concerns regarding the couple rings as to where is the best place to find a king and queen couple rings online.  As a  matter of fact,  the online shopping domain extends you with a wide range of options in the required design ranging from ₹250 to ₹80,000. You can check a couple of designs here.
Taking great pride in providing an unrivaled online shopping experience that caters to and customer's individual tastes and needs, Sunny Diamonds is one of the best stores in India, both online and in-store to purchase trendy couple rings. Sunny Diamonds' belief that the consumers are forever entitled to superior production, beautiful designs,  and ethical sourcing makes us strive for perfection whatever your unique needs are to engrave the love you share within your bands.   Moreover,  we deliver stunning and beautiful diamonds in statement pieces that commemorate long-lasting relationships and celebrate love.
If you shop at Sunny  Diamonds, however, you won't have to think about the wide variety of designs or the clarity of your diamonds because we only sell  IF  clarity diamonds in a striking range of trending designs.  Look no further if you're looking for a high-clarity stone with a spectacular visual design, Sunny Diamonds is your one-stop destination. We always guarantee a broad range of IF diamonds, as well as expert assistance in choosing the gem that best fits your couple rings.
If you'd like to know more about seamless couple ring customization, book an appointment today!