Quick tips to pick & style the ideal diamond jewelry for you, with class!

Are you a confident, independent woman who isn't scared to express her opinion, think big, and fight for her privileges? Then you might also be not used to waiting for others to gift you
something you've always wanted! Fierce women always prefer to be viewed as themselves rather than as part of a herd. Unique jewellery always sets her apart, serves as a trademark, and
exhibits her flair.
Rather than waiting for others to gift you bespoke pieces that speak for your personality, it's time for you to step up and celebrate yourself as a woman today. Whatever type of person you
are—fun-loving, self-reliant, outgoing, introverted, daring—celebrate and treat yourself by selecting the appropriate jewellery for your personality!
Jewellery that creates beauty, power, and status for women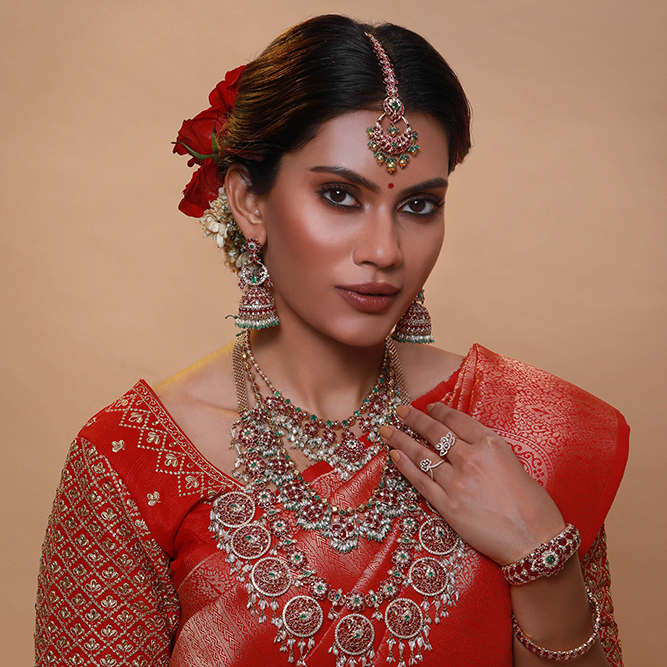 When the appropriate piece is worn by the right person to the right occasion, diamond jewellery has an undeniable capacity to bring out the best in any woman's features and
personality. It is a powerful accessory since it can make you feel beautiful, trendy, unique, and self-assured. It eventually contributes to a woman's self-esteem, which is why it is so important
to so many of you, right?
Owning diamond jewellery sometimes also has a societal status quo attached to it. Wearing diamond jewellery not only enhances your beauty, but often it also represents the luxury,
prestige, and status of the woman adorning the piece. Why? Because that's how the notion of diamonds has evolved all through history. So, ladies, if you've earned your place at the table,
add a piece of statement diamond jewellery to your powerful self to make your presence more
assertive.
Culture, beliefs, and tradition wearing diamond jewellery
Apart from owning and wearing diamond jewellery as a form of self and creative expression, many women out there also wear them as part of their tradition and culture. Here's a quick
rundown of the long-standing tradition that has led to the current status of diamonds!
Since 429 BC, diamonds have long been associated with comfort in cultures ranging from the Greek to the British. They have been admired, revered, and considered diamonds as extremely
valuable as they are said to have mystical abilities that will help the people who wore them
succeed.
Due to their bright, mirror-like reflected effect and hardness, diamonds were believed to ward off a variety of bad 'things' or events like illness, poverty, evil spirits, and other calamities. As a
result of the belief in them as talismans, guardian spirits, or magical medical healing stones, diamonds slowly became 'respected' as a stone to be coveted in its own right.
The stage had been prepared for millennia for what the diamond would come to represent: a regal jewel symbolizing domination, authority, supremacy, power, and rank. From being the
crown jewel diamond's brilliance over centuries became undisputed, and in what now seems inevitable, has evolved to be the symbol of love. Gifting unique diamond jewellery to a loved
one has come to symbolize an everlasting commitment.
Diamond jewellery in Indian weddings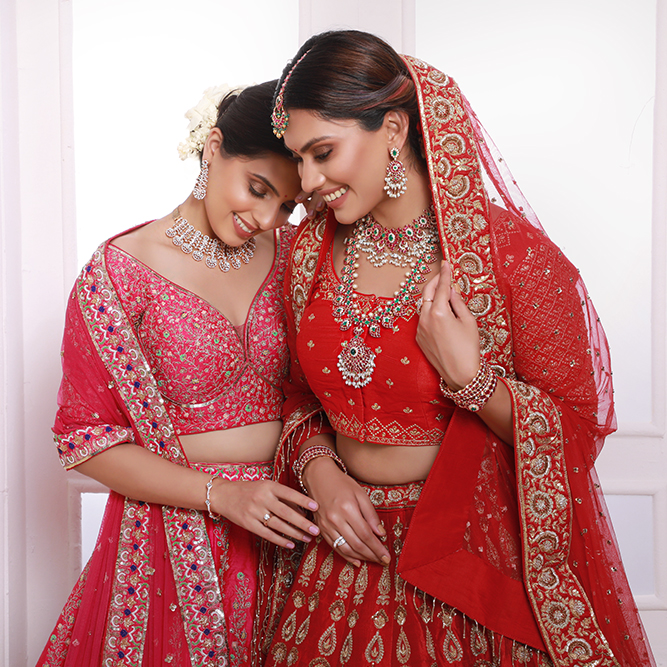 As Indians, we always place a premium on the finer points of bridal jewellery. The more subtle the intricacies of the jewels are, the more important they are to the family's tradition and the
jewellery itself. As a result, before presenting the jewels to the bride, the family frequently ensures that they are a good investment and feature more unique designs.
With its growing sentimental and investment value, diamond jewellery is one of the most common gemstones used in jewellery, and is frequently connected with weddings and
engagements. The bridal jewellery is designed to express her acceptance into her husband's extended family and to evoke purity, innocence, and everlasting love in marriages; the very
notions a diamond always stands for!
Picking and styling the right type of diamond jewellery
Although most people identify diamonds with weddings, there is a myriad of elegant ways to wear diamonds that make the most of your collection without being monotonous. Here are
some striking tips for choosing and wearing diamonds with style:
1. Add layers with diamond rings, necklaces, earrings, and bangles
Why not begin with something uplifting? We all like diamond jewellery that is well-stacked and multilayered. It has the ability to elevate a plain outfit to a new level
while appearing effortless. From small diamond trinkets to lengthy exquisite pendants, the possibilities for layering diamond jewellery are endless. Experiment with different
lengths, forms, textures, and colors when layering rings, necklaces, bangles, and even
earrings to create appealing layers.
If you're stacking necklaces, go for varied lengths to attract attention up to your face, like Sonam Kapoor is doing with a multilayered diamond and ruby studded necklace.
You can very much make a wrist party with assorted diamond bangles and bracelets that sparkle and clatter as you swing. Rings can be stacked, paired, and layered in a variety of
ways; for inspiration, go through our stacking rings.
If you have more than one pair of ear piercings or want to mix ear cuffs with other earrings, you can try wearing diverse earring styles. Check out our danglers and stud
earrings for more inspiration.
2. Try out mixing metals to complement the diamond
Mixing and matching metal colors was once considered a fashion faux pas but now this is no longer the case. Now you may mix and match your favorite jewellery to create a
unique look. But be sure to have a look in hand before you start matching, especially if you're including gemstones or pendants. After all, contrasting color tones, such as silver, yellow, and rose gold, are an excellent method to highlight diamonds while also adding depth and texture to your jewellery.
To add vibrant intrigue and color to your clothing, consider diamond necklaces with pendants that contrast with the color of the chain they are attached to, rings that blend
multiple metal colors or layered necklaces in varied metals.
3. Elevate your wardrobe by experimenting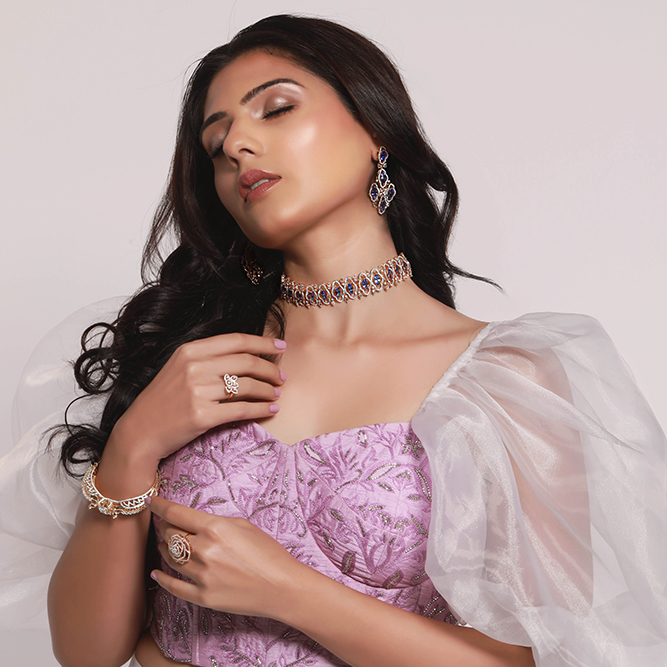 Just put on basic clothing and start experimenting with different pieces of diamond jewellery from your collection in front of your mirror. Experiment with unusual combinations of jewellery designs you might not ordinarily pair together, along with diverse accessories such as scarves, bags, and watches.
Think about the type of jewellery pieces that will expand and draw attention and depth to your clothing. Experiment your way to a single focal point with a statement piece by mixing and matching, stacking, and layering. Play with various focal jewellery pieces and combinations of them.
And go shopping if you don't have a lot of jewellery in your collection that isn't particularly diverse. Go bold this women's day with Sunny Diamonds
You may want to stand out and have an appearance that shows the world who you are at a glance. Whether you'd rather go delicate or hefty, modest or statement, there's something for
every woman at Sunny Diamonds. And nothing is more reliable than gifting yourself original and timeless diamond jewellery, although it may come across as cliché.
Showcasing the most exquisite and unique diamond jewellery collections in India, Sunny Diamonds is always here to honor the glory of every household and heart, who stands as the
embodiment of power, affection, and substance.
So are you ready to get mixing your new diamond collections up? Browse the entire collection of gold, silver, and rose gold diamond jewellery online at Sunny Diamonds.