Pink Diamonds: One Of The Most Expensive Diamonds In The World

Hollywood has always been fascinated with its eloquent trendsetters in jewellery. The introduction of the pink diamond as the most popular stone for jewellery is one of Hollywood's newest trends that the world is eagerly chasing at.
One of the incredibly famous celebrities who have been spotted with a pink diamond ring is Jennifer Lopez. Ben Affleck, gave J.LO, a dazzling pink diamond engagement ring of 6.1 carats and was valued at an incredible $1.2 million!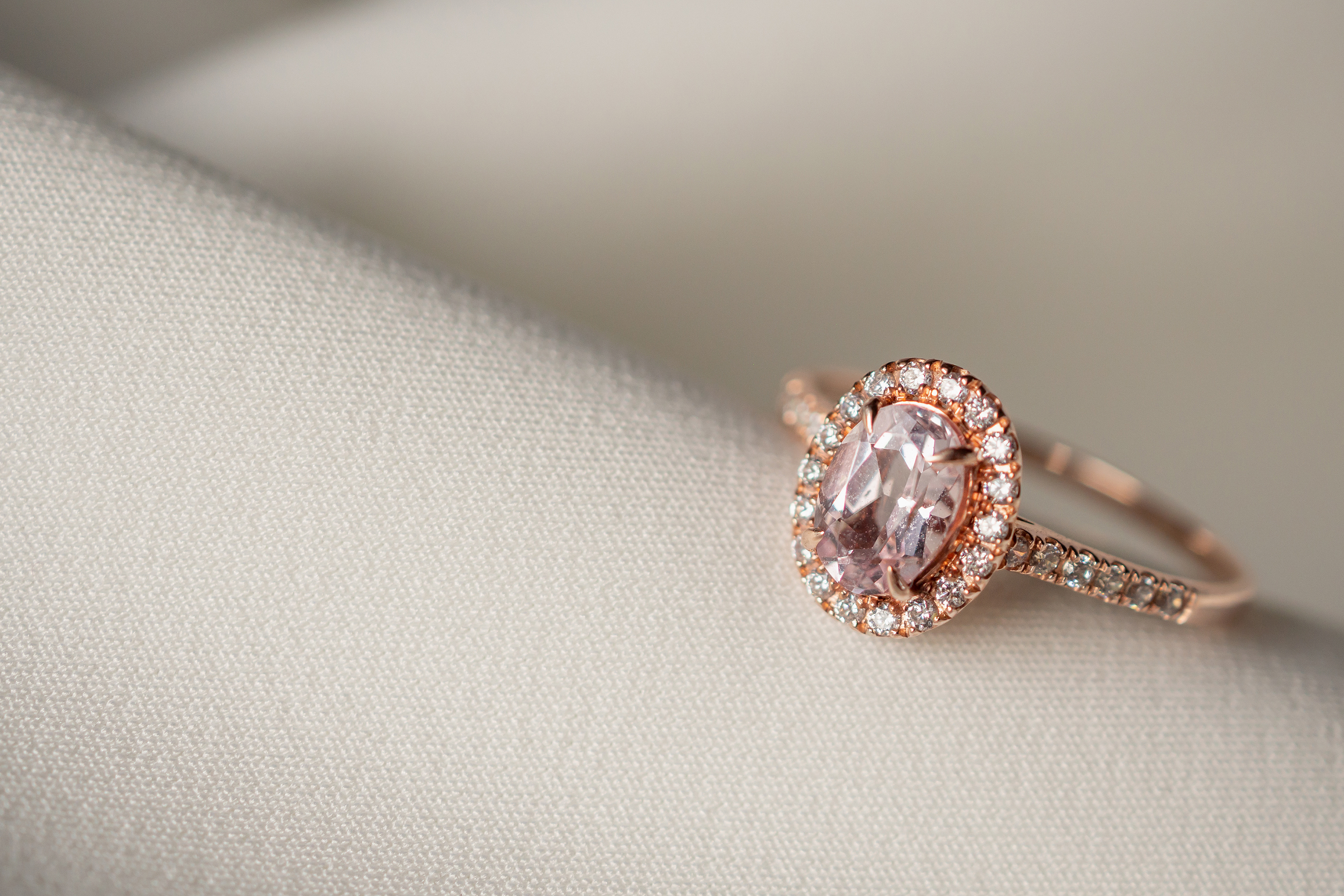 Rarest Diamonds that Worth Millions
Pink diamonds are not only tempting and exquisite, but they are also one of the world's rarest gems next to red diamonds. Its occurrence is what makes it more special and popular among jewel lovers, investors, and collectors. It looks incredibly fascinating because of its rarity and bewildering natural pink hue and is still a mystery to the world because of its form, geometry, and colour.
Pink diamonds' high value stems from their extreme rarity, apart from the fact that they are undeniably exquisite. Pink diamonds have long been admired by royalty and are estimated to sell for millions per carat in today's market, with huge carats and bright colors in limited supply.
Did you know that pink diamonds are 20 times more costly than white diamonds? A one-carat pink diamond will cost anything between $100000 and $1 million, which is indeed crazy.
Just a few countries have been fortunate enough to find pink diamond mines. More than 90% of the world's supply of natural pink diamonds is produced at the Argyle Mine in Western Australia, which is well-known around the world. Apart from Argyle, they have traditionally been found in India, South Africa, Canada, Russia, and Brazil as well.
Pink diamonds make up less than 1% of the Argyle mine's production, making them the rarest of the rare. This is large because of the fact that only one carat of pink diamonds is available for sale for every million carats of rough diamonds mined at Argyle. There is then an average of 1 carat of tendered pink diamonds and a total of around 40 to 50 carats sold annually at auction.
Not all Pink Diamonds are Made Equal
 Pink diamonds fall into the categories of purplish pink, pink, pink rose, pink champagne, blue-violet, and red in terms of the colour scale. The rarest and most expensive is a 1PP (purplish pink), followed by pinks and pink roses. Purplish undertones are thought to give the diamond a more striking and intense appearance.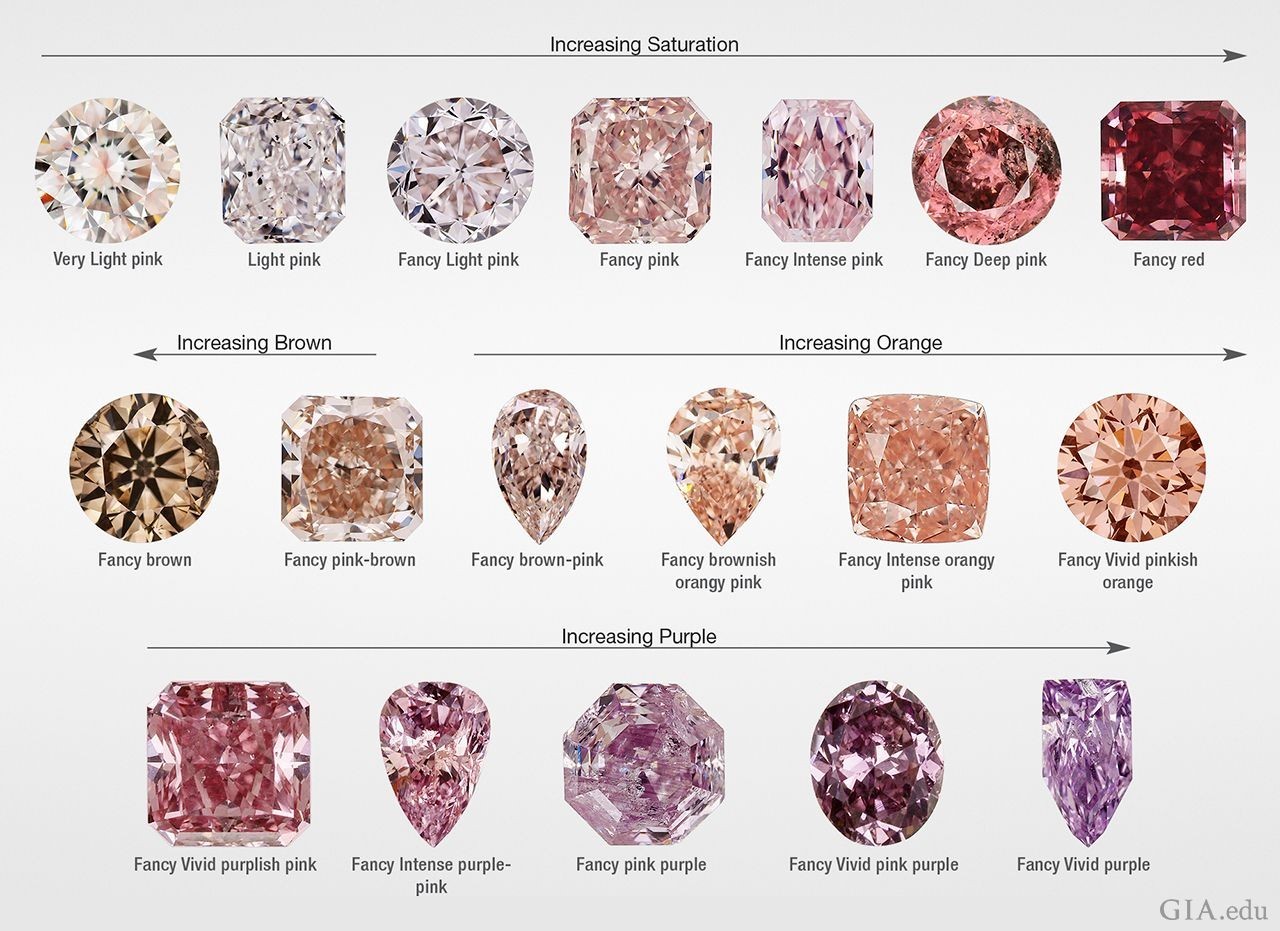 Source: GIA
The more vivid the diamond's color, the higher the diamond's price will be. As a result, a natural pink diamond with a deep, pure pink hue, graded Fancy Vivid Pink, is considerably more costly than a Fancy Light Pink or Fancy Pink diamond.
The Most Expensive Pink Diamond of All Time
 With the exception of red diamonds, the most expensive natural diamond color on the market today is high-quality pink. The cost of a pink diamond will range from $10,000 per carat for a less intense pink diamond to $700,000 per carat for a deep and intense pink diamond. The color intensity and carat weight of pink diamonds are the two most important factors that influence their price.
In terms of record-breaking pink diamonds, 2017 was one of the most robust years. The Pink Star made a comeback and the record for the most expensive pink stone (and most expensive colored diamond) to ever be sold at a public auction was officially broken this time. On April 4, at last year's Sotheby's Hong Kong auction, this truly magnificent gem managed to raise $71.2 million and was purchased by renowned jeweller Chow Tai Fook.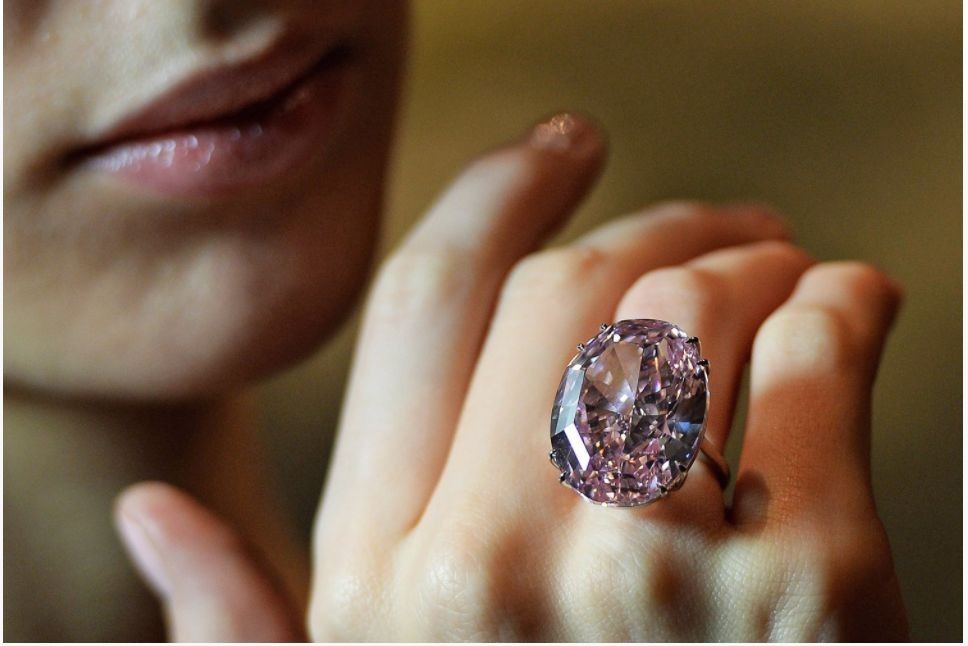 Source: Today
The Value of Pink Diamonds
 For fancy coloured diamonds, colour has a strong connection to meaning, unlike colorless diamonds that are priced based on the 4Cs. Since pink diamonds are one of the rarest coloured diamonds, the value of pink diamonds varies depending on the stone's color variations.
Although brownish pink stones are much more affordable, purplish-pink diamonds command higher prices. The term "affordable" is used almost roughly here, and the price is still very high as compared to other gemstones.
Prices go up with the degree of color strength of pink diamonds, as a rule of thumb. Pink diamonds that are intense or vibrant in color are highly valuable. When matched with secondary colors, the rarer the secondary color is, the greater the price as well.
The price of pink diamonds grows exponentially as the carat size increases. For $50,000, a .50 carat stone could be sold, while a 2 carat stone could sell for $500,000.
When considering colored diamonds, clarity is essential but not as critical as it is for colorless gems. Even stones with lower clarity levels can still sell for high prices as the color tends to conceal flaws. Although the brilliant round cut is the most common for colorless diamonds because it emphasizes the stone's brilliance, fancy cuts are best for pink diamonds because they allow the stone's true color to shine through.
For colored diamonds, shapes such as radiant, cushion, heart, triangle, and marquise are best to conceal defects while stressing the color.
The pink diamonds we see most frequently in pink engagement rings appear to be fainter in color, such as Blake Lively's large pink diamond engagement ring, with such intense, pristine pinks coming at a much higher price tag.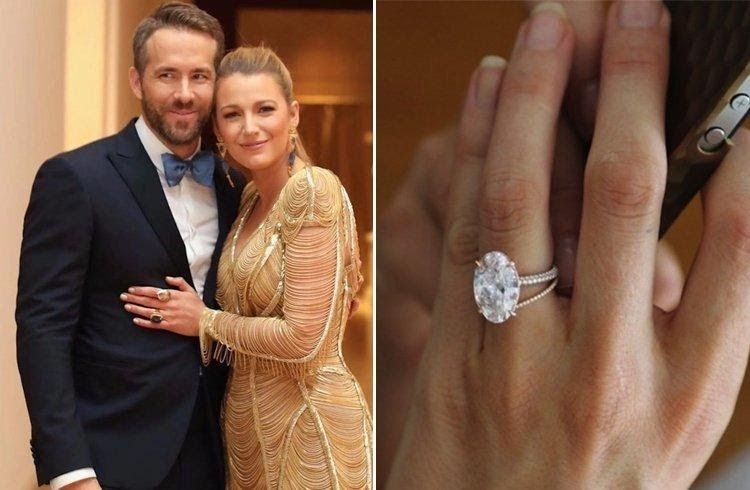 Are Pink Diamonds a Worthwhile Investment?
Pink diamonds have displayed a steady year-over-year increase in value. Pink diamonds in the higher quality and standard have an average price per carat of $1.5 to $3 million per carat. Investors and collectors are taking note of the rising prices, and as supply declines as the Argyle Diamond Mine close, demand will inevitably continue to push up the price.
Previously, most pink diamonds were purchased for use in engagement rings, but consistent market indices showing a 20% annual rise led to an influx of Self Managed Super Funds (SMSF) and wealthy investors from China and around the world, transforming pink diamonds into a financial investment devoid of sentiment or romance, laden with practical considerations of security, low risk, and a high return on investment.
The chart below by the Telegraph report shows the increase in the value of pink diamonds by carat over time in a simple yet almost incredible way.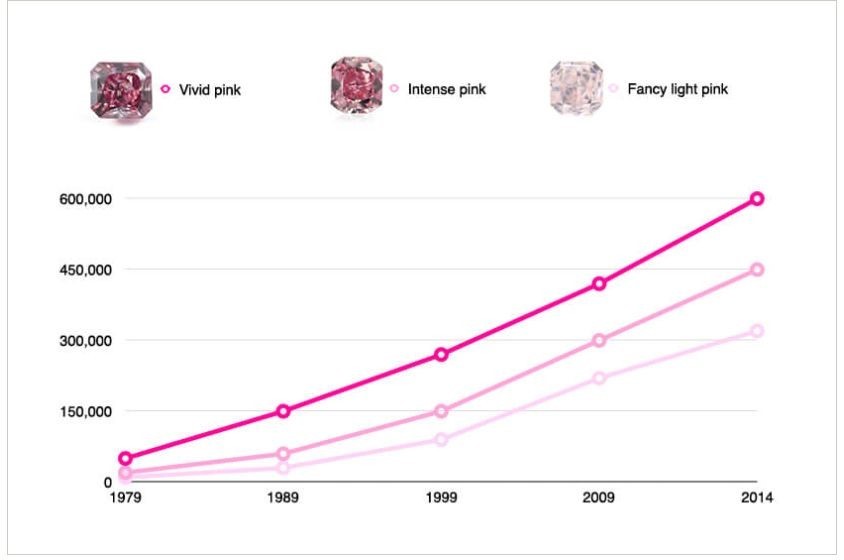 For those looking to invest in pink diamonds, such as SMSF funds, banks, and wealthy individuals, this is a 'safe haven' that offers all of the advantages and benefits of the investment world with tiny stones that can easily be held in your pocket or on your finger, and whose value is often even greater than that of real estate assets, making them more appealing to the man.
Popular Settings for Pink Diamond Engagement Rings
Pink diamonds make for beautiful rings due to their eye-catching color. A more economical way to customize your engagement ring with rare pink gems will be to compromise on size, integrating smaller diamonds into your design, as the majority of pink diamonds on the market come at a much smaller carat. There are three pink diamond engagement ring types that have been slaying the ring market ever since.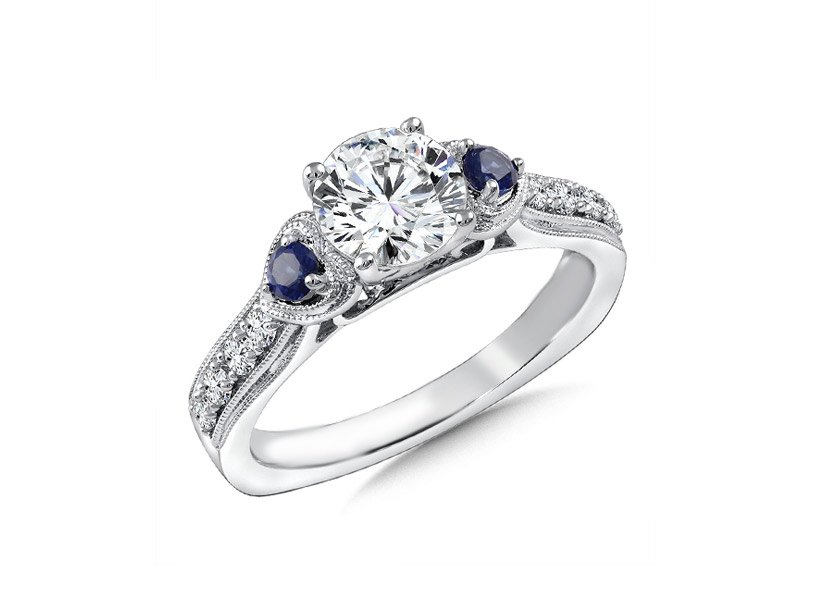 An excellent way to increase the size and sparkle of your ring is to pair your pink diamond with side stones, particularly if your coloured diamond is less than 0.50 carats.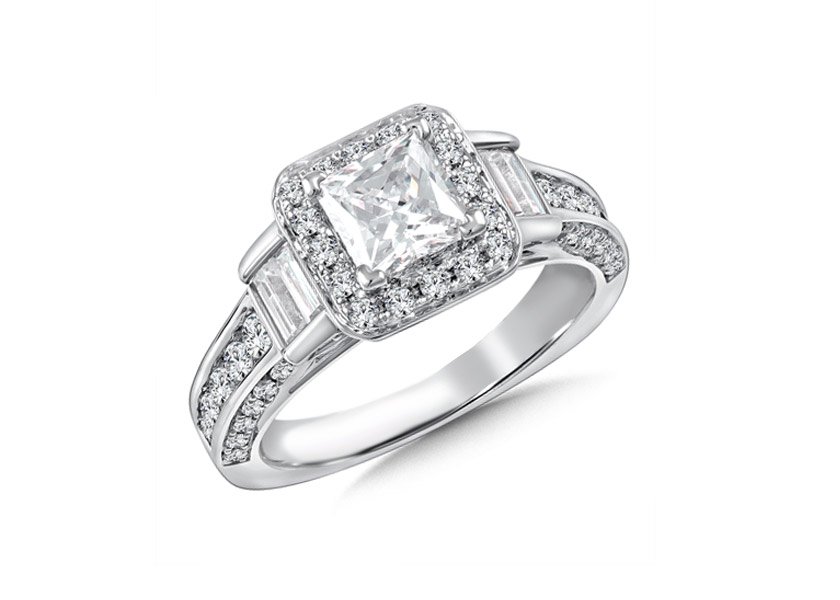 Improve the appearance of your pink diamond in color and scale with a halo setting made of tiny round brilliants.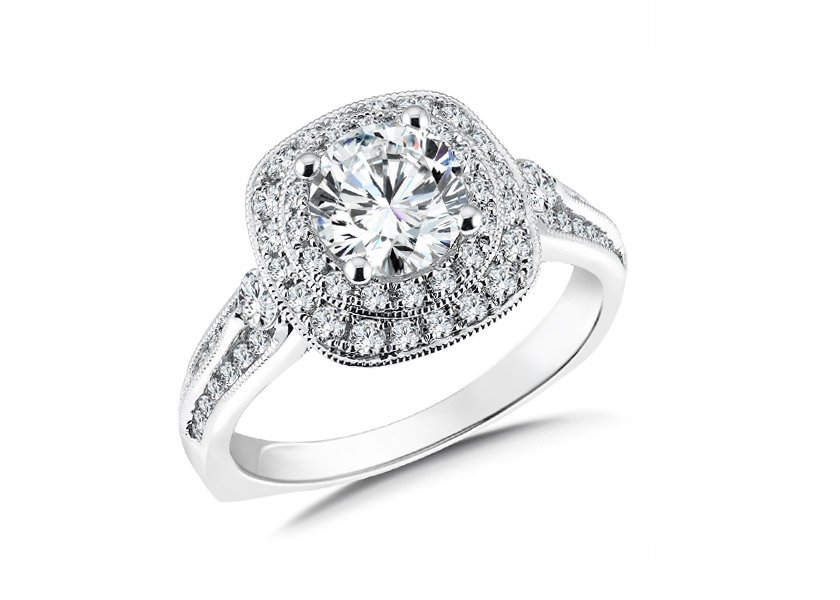 Adding a second layer of small stones to your ring will help to attract attention to your pink diamond. A tiny secret to all the Steven Universe lovers on why pink diamonds fake her shattering! Here you go!
Steven claimed that his mother used the Breaking Point to smash Pink Diamond in "The Courtroom," as he appeared to be his mother on trial in front of Blue and Yellow Diamond. However, Blue Diamond believes that Rose Quartz used her sword to shatter Pink Diamond, which Steven claims is technically incorrect. Rose Quartz was discovered to be Pink Diamond in
"A Single Pale Rose," and her shattering was staged the whole time to put a stop to Earth's colonization one last time after Blue and yellow Diamond declined to let her leave the colony.