Latest in the Trend; Jewellery Fashion that You Don't Want to Miss in 2021

Every single piece of ornament has a story to say. From a mine to the hands of the customers, it
is one long journey. Adornments not only tell us their story but give us a memory worth
remembering a million times. It may be a beautiful wedding, an unforgettable engagement
ceremony or a date you and your partner cherish. Choosing the right jewellery is an important
part of the process. But choosing the best among them is fundamental to the whole process of
buying and wearing an ornament.
It may be anything as delicate as a pair of pearl studs, or as stunning as a ruby-studded gold
choker, but the right jewellery can make a heck of a good difference in equal proportions to the
outfit and attitude of a woman.
Most of us women spent years playing with the contents of the jewellery box of our mother,
captivated by the crystals that laid in all their glory, stacking our wrists twice the height of our
wrists with bangles. But now many of us are at the age of starting our own sparkling collection of
jewellery, it's natural to want to know what our preferences are, and what the fashion runways
are featuring.
Let us take you through the greatest jewellery trends to look forward to in 2020 helping you
understand what the new jewellery trends dictate, and make an informed choice about the
ornaments worth spending in.
Why Does Your Jewellery Trends Matter?
Jewellery always matters as it not only adds beauty to the outer self but adorning them is also a
definite attempt at showing who and what type of person you really are! Some like sleek designs
while some go for bold ornaments. Some choose an exquisite necklace while some others
decorate themselves with varieties of stackable rings! Well, eventually all this depends on each
of you and how you perceive them when you wear these ornaments. Hence, it is absolutely a
charm rather than a necessity to wear the right kind of jewellery.
Everyday Jewellery
Everyday jewellery is a term so common in fashion circles that one would rarely miss.
Nowadays, we don't wait for occasions to brighten up with ornaments but wear them as a part of
daily existence. Some of the things one need to consider while thinking about everyday jewellery
 1. Simple and Comfortable
The wearable should fit in with our daily life and should not instead hinder them. It can be
anything like a gorgeous ring or a lovely pendant, beautiful earrings, nose pins, bangles and
bracelets etc. Some of the oft-repeated queries on the internet about the same are whether it's fine
to have an ornament as part of your body all day long and is it okay if we wear two or more
accessories? Well, the answer is, there is no maximum amount of jewellery!! The more pieces
you have the better. A jewellery box is like an 'accessories kit' that always needs building and
updating, it should always be equipped to save the day.
  2. Style and Mood
As mentioned above, everyone has a comfort zone in wearing jewels. What style do you
represent, what kind of image do you carry, what kind of lifestyle do you lead and above all the
mood you are in. All this influences the choice of your jewellery.
● Sentimental – Some are extremely attached to some jewellery like a ring their fiance
would've given, a bracelet gifted by a father, a necklace grandmother used to adorn.
Jewellery is a symbol of love. A promise to always be by your side.
● Statement – We should allow the jewellery to stand out and give our outfit the wow
factor! Your statement piece can be either a necklace, earrings and in some cases the
bangle or wristwatches. You can even match the wristwatch to the necklace – but
remember never to overdo it. Make sure to stock up on statement pieces so you have
enough to swap each day and can match to each of your basic daytime outfits.
3. Keep up with the trend
Keeping up with the latest trends in the fashion sector would help you achieve your dream look.
Online magazines like Vogue and InStyle help you keep pace with the latest developments.
4. Budget
Consider how much you would be able to spend. Accordingly, choose an online store that meets
your budget criteria. Almost all major brands of jewellery have an online store set up. Hence it is
not difficult to find a store.The best online is Amazon.in. They have the choicest of jewellery and
guess what? They come at unbelievably affordable prices. Spending for your loved ones is not an
investment but rather a simple gesture of pure love.
Hottest Trends
They are rings that add up on each other ring, mostly on a finger. They stack one on
another giving the particular finger an elegant feel. There are no norms when it comes to
stacking rings. It all rests on your comfort and how you feel when you wear them.
According to the age old tradition, the fourth finger on your left hand has a vein that goes
directly to your heart. This is exactly why this tradition is followed customarily in certain
countries to stack rings on that finger which symbolize engagement, marriage, and
motherhood.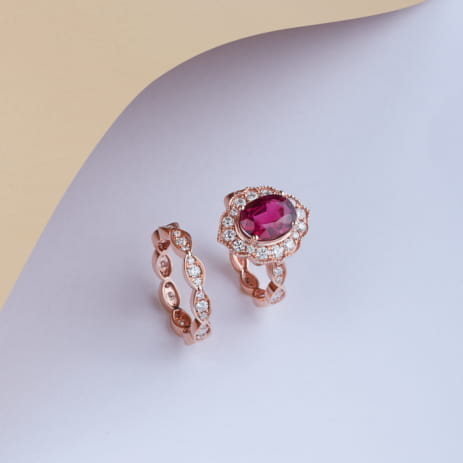 One ring could be sapphire and the other one diamonds, one ring could be emerald combined
with diamonds, and yet another fashionable duo could be ruby and diamonds.
The uniqueness of this wearable is that it has the ability to catch the attention of the eye making
the rest of the jewellery mute. It can be a great addition on your girlfriend's finger,
attracting all the attention she deserves!!
● Customisable Solitaire Rings
A customisable solitaire ring is timeless, and it gives women the freedom to "dress up" the
ring with enhancer rings or a more ornate wedding band. You may also emphasize the diamond
in the design. These types are more preferred for engagement, marriages as they make an
everlasting impact on the person who adorns it and also adds a pinch of glamour to the festive
mood.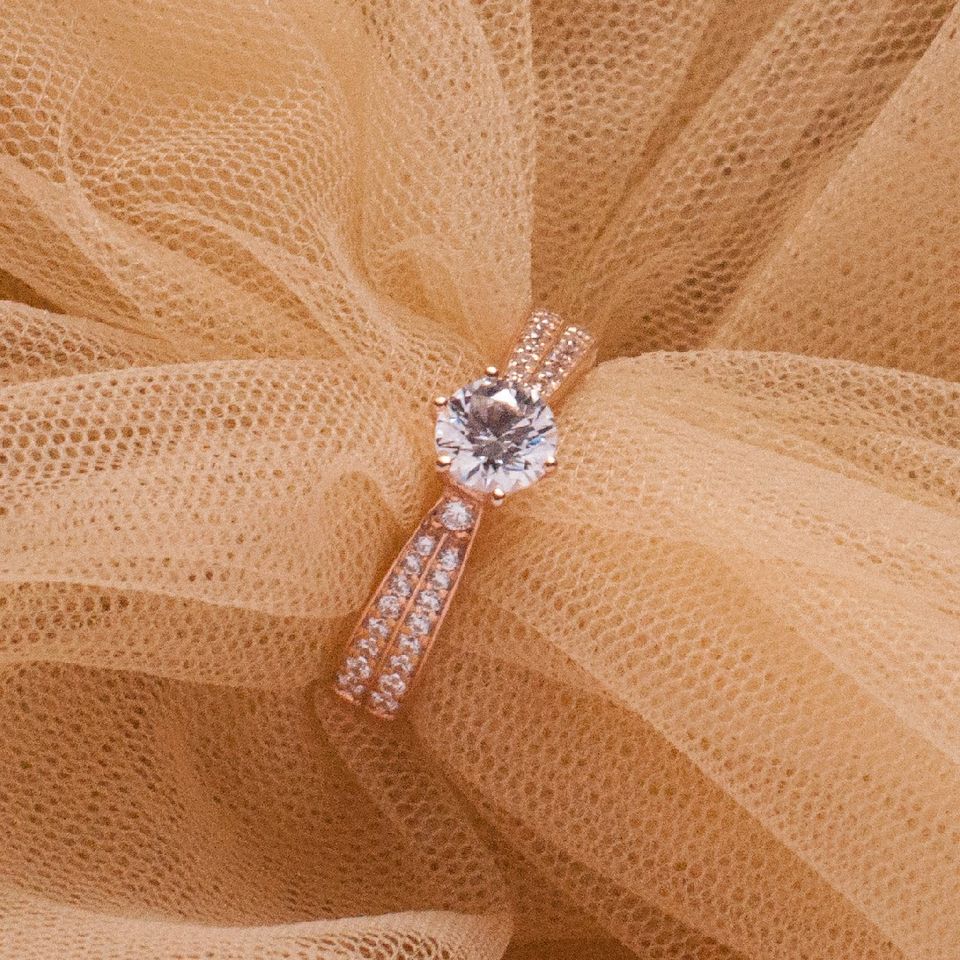 The right necklace does more justice than just exaggerating an outfit, it importantly spices up
the neckline. The progression these days is towards wrap necklace and lariat-style
pendants which are not only stylish but elegantly bold. Balancing minimalism and
extravagance is the key to a stunning appearance!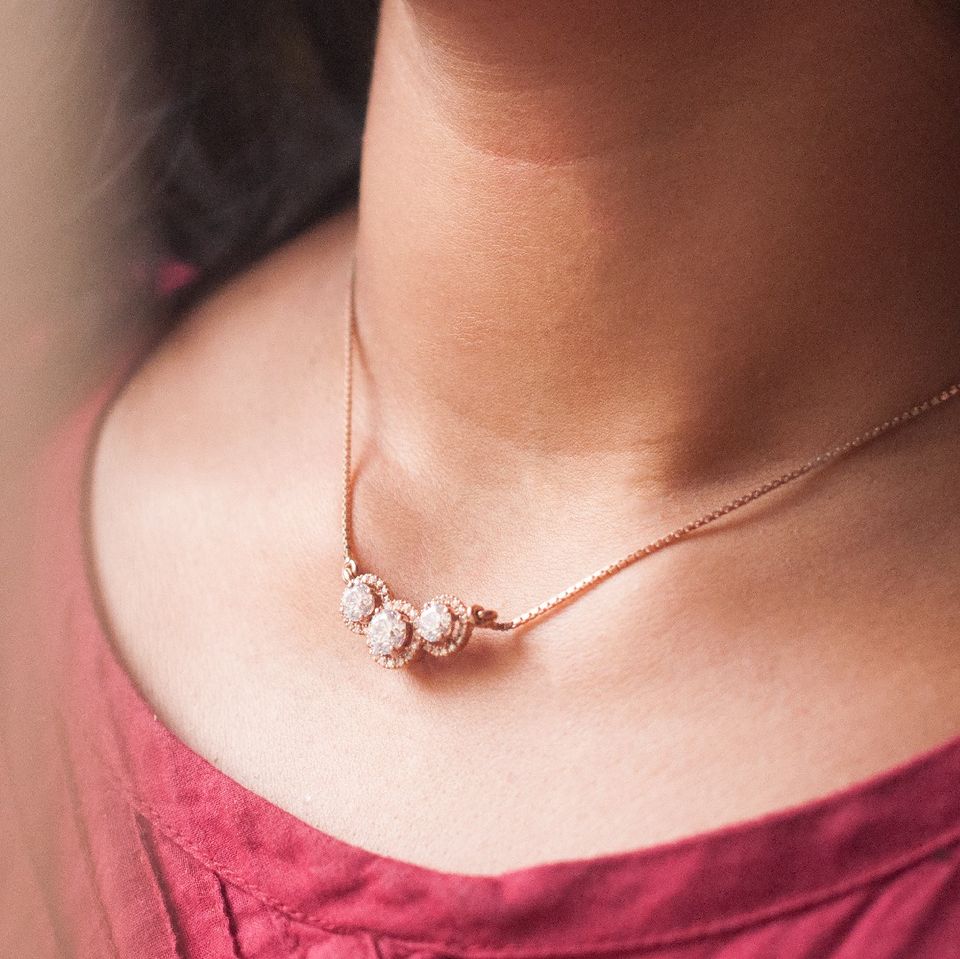 The demand for lightweight jewellery in India is unflinching as evidenced by the recent
collections by most brands. Brides and bridegrooms prefer lightweight jewellery that they can
wear on a daily basis. One fine example would be the Chand Bali earring. The design is
tailored to suit the taste and demand of modern women. It got its name from its shape which
resembles a moon. Moon-shaped chand balis are very much in trend. Just a pair of big chand
balis is enough to make you glitter in your reception or engagement. It suits well with every
traditional Indian attire be it sarees, lehengas or salwar suits.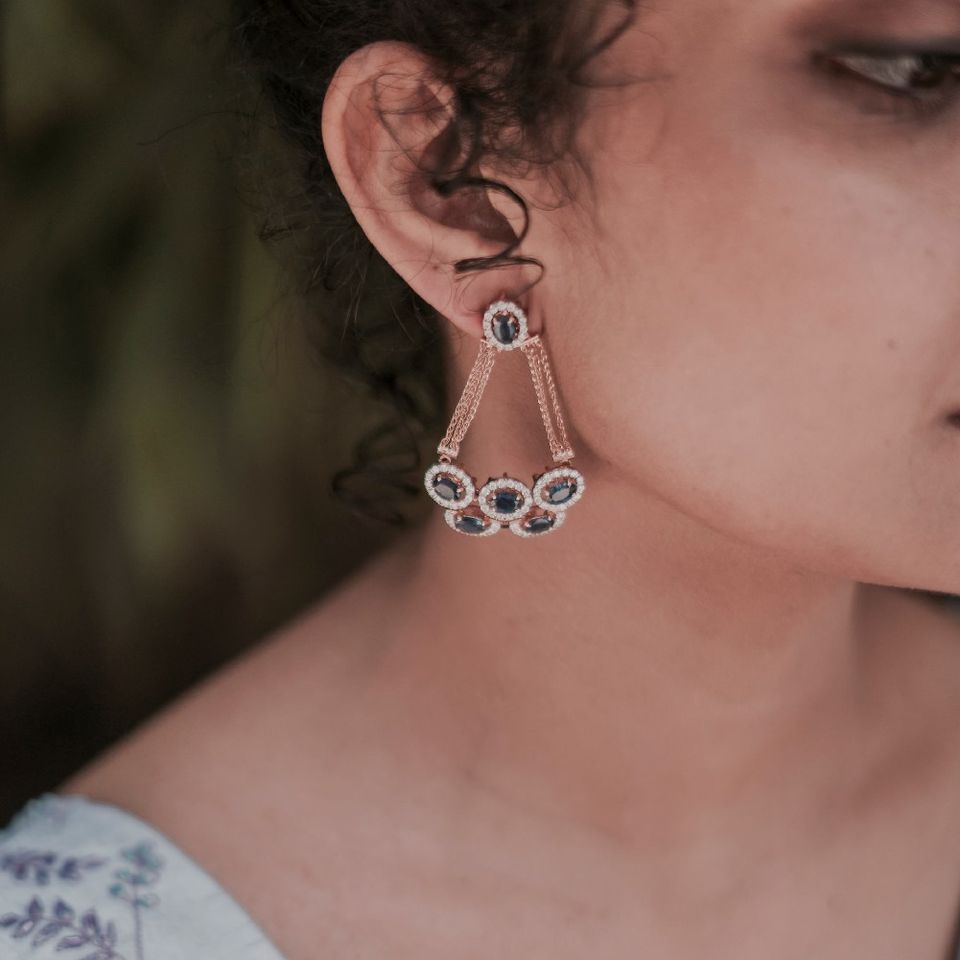 Gemstone earrings are considered to be in vogue including emerald, ruby and sapphire. We can
definitely say the new millennium is all about gemstones with a vibrant display of colours.
Embellished earrings with multi-colour details have been the common inclination in the
jewellery trends of the year, with both simpler designs and those with a touch of extravagance
making the rounds.
Trending Indian Jewellery
1. Kanti Necklace
The love for Indian jewellery dates back to almost 5000 years. The material used to make the
traditional necklaces changed in time from ivory to copper to gold and now diamonds. Antique
jewellery is especially worth mentioning for its symmetrical designs and orderly progression.
And one such example of the same is Kanti Necklaces. They are similar to chokers which are
famous lately. It is also known as 'Hasli' in Rajasthan.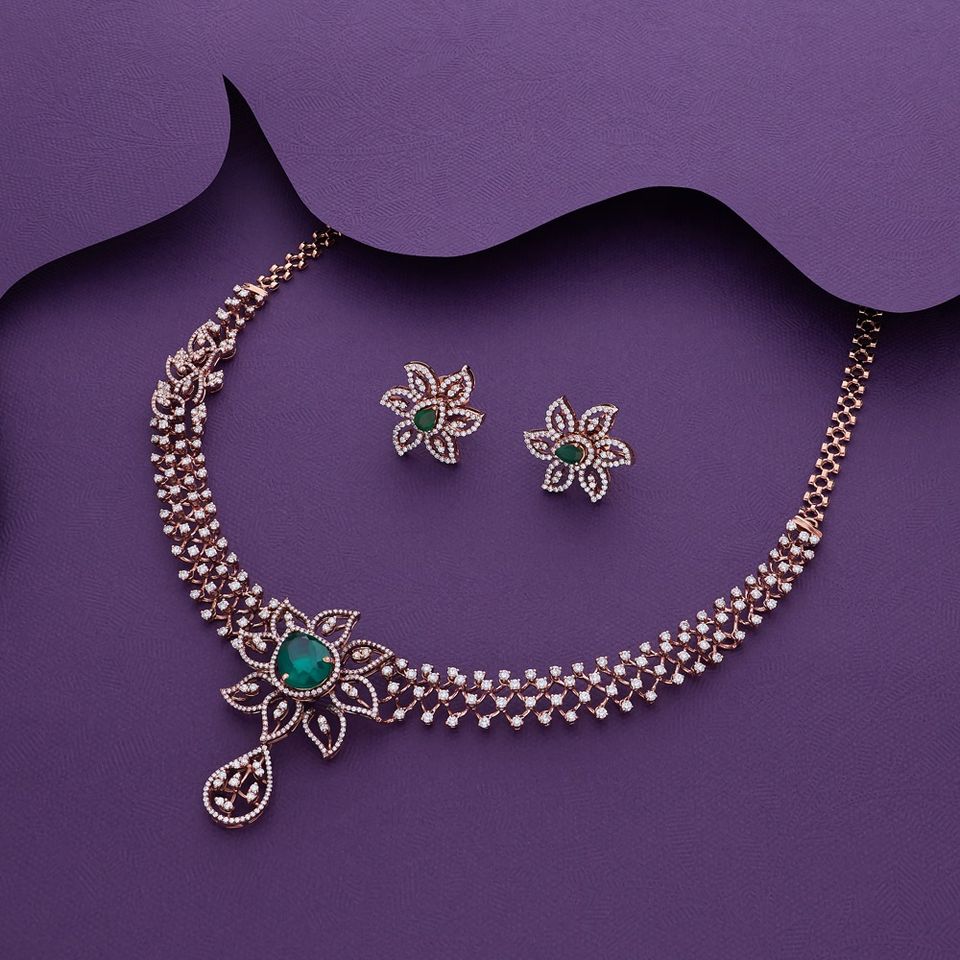 2. Antique Temple Jewellery
Temple jewellery with an antique finish is the new craze as people are ready to give everything to
attain that regal look! The ornament is particularly chunky and mostly made of gold, with precious stones in red and green. Many of them feature large motifs of goddesses and are made
up of intricate pieces. They look regal when paired with a Kanjeevaram saree. The roots to such
ornamental decorations trace back to the royal Chola kingdom where queens and kings used to
adorn such ornaments. Wear them and be a part of history!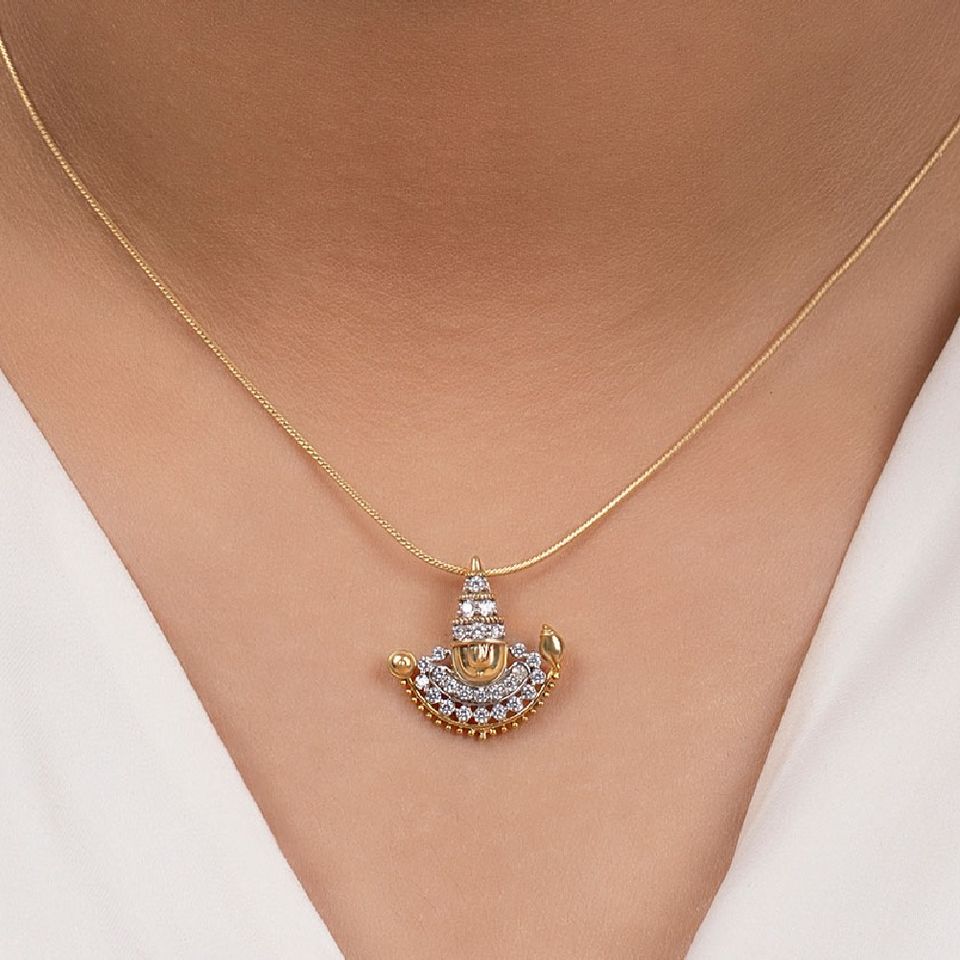 3. Peacock Jhumkas
Peacock earrings are the result of excellent craftsmanship inspired by the traditional Tamil
Jewellery making industry. This alluring style was famous among royal families, ruling the land
back in the day. There are pieces of peacock Jhumkas in artificial jewellery. But the ones made of
gold not only shine forever but also enhance the regal look and quality for ages. Peacock earring
made of enamel would need special care when used on a daily basis. Silver peacock earrings are
also charming to look and best for rough use. White metal peacock earrings are another elegant
piece of ornament preferred by a few people. Among the types of peacock earrings, diamond
peacock earrings steal all the light as the level of mastery and craftsmanship required in crafting such delicate and intricate designs and fixing such precious stones is just beyond the
ordinary. They are royal from the outside sand exquisite from the inside.
4. Bridal Adornments
Bridal ornamentation carries symbols of wealth, prosperity, grandeur, strength, well-being,
solidarity, virtue, passion and valour. It is worn by both women and men. The jewellery is highly
sought after today with important pieces such as the bridal-set having become collector's items.
They adorn the bride from head to waist. Some examples of such trending ornaments are head
chain, karapati throatlet, agasti necklace, gedi bangles and hawadiya (hip chain).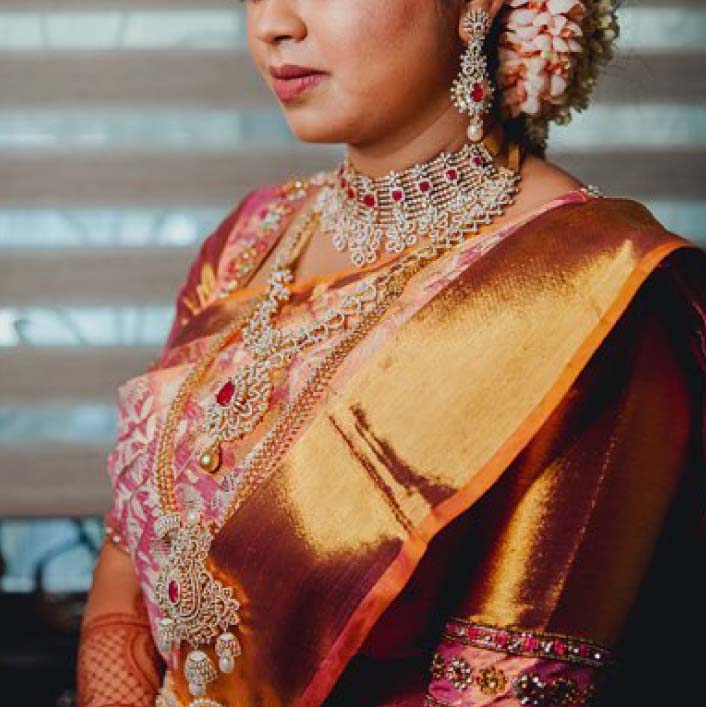 Owning the latest trends in jewellery is never too late. It is prudent to invest in a few simple
pieces of trending jewellery if you are just starting off with your own precious collection. You can
wear them at work, at home, at parties, and when you're having a party with friends.
Sunny Diamonds
Having covered most of the current mood in the jewellery side, it is also worth noting that you
go to the right place looking for your dream jewel. SUNNY DIAMONDS has a legacy that offers
you rich experience on how you should choose your ornaments. Their expertise in advising you
and guiding you to the right collection of jewellery is simply unmatched. They've over a period of
time reached the epitome of delivering high-quality diamonds to customers even with a money-back policy. Finding it difficult to move out in these times? Don't worry! Sunny Diamonds online portal
never lets you feel you are far away from the world of jewellery and delivers your product within
the specified period. So guys, don't think twice, let's be wise and play smart!