Discover the Joy of Gifting Luxury(Handpicked and handcrafted timeless jewellery pieces!)

Sparkly, shiny… and so wearable! Jewellery is the way to go if you are looking for elegant, charming, and classy gifts. Be it a single-strand necklace, a beautiful ring that symbolises an eternal bond or a statement heirloom that sparks conversation — we got some jaw-droppingly fabulous jewellery pieces —  of excellent make — creating significant fashion statements.
Discover the joy of gifting luxury. Explore our selection — carefully handpicked (and handcrafted!) by us, for you.
Why pick a single stone when you can have an array of fabulous gems?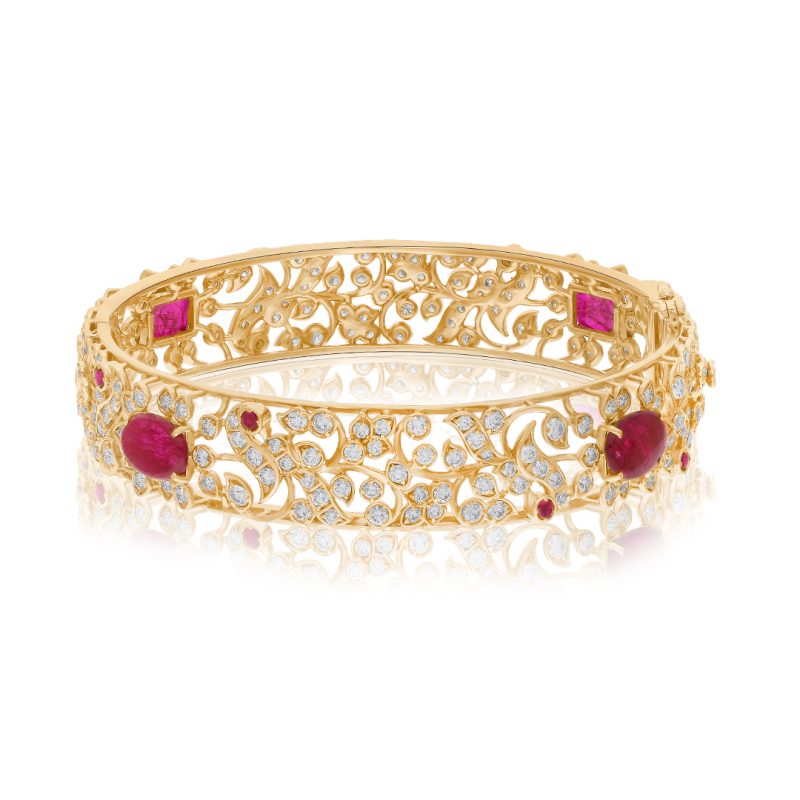 A dazzling piece of jewellery that stays forever — and that can spruce up your elegance — wherever you are, whatever you wear. This eternally flawless diamond ring features navaratna — or the nine coloured gemstones. The navaratna jewellery pieces are always in trend and make an exotic heirloom.  It is colourful and radiant and the stories behind it — definitely make it desirable to both men and women (yes, it's unisex!). The different gems in Navaratana jewellery are ruby, pearl, red coral, emerald, yellow sapphire, diamond, blue sapphire, hessonite and cat's eye.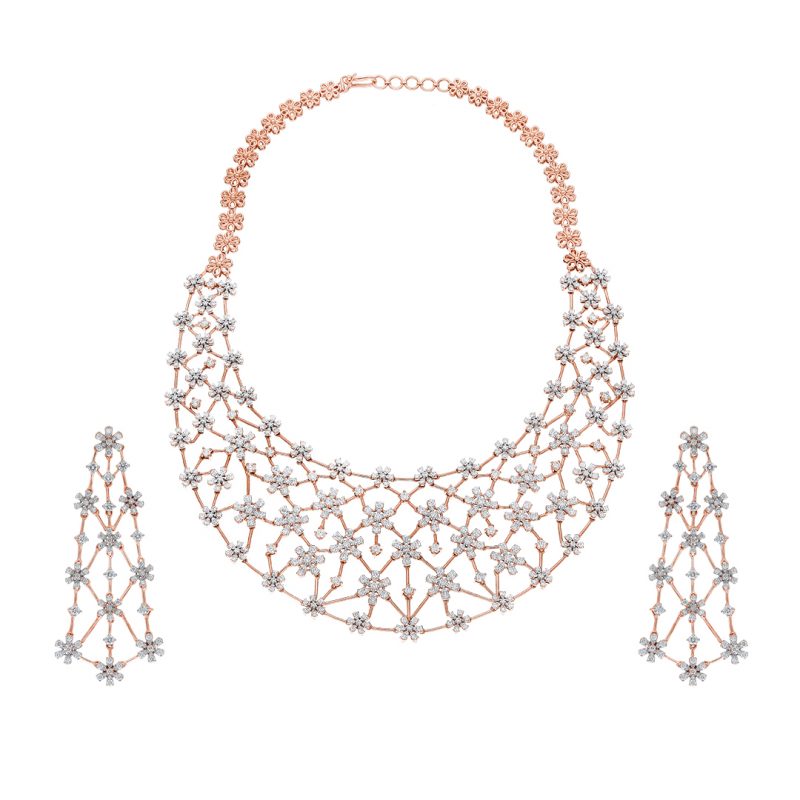 The gorgeous Navartana jewellery is making its way to the bridal jewellery collection with its vibrant colours and designs that are eternally sophisticated.. It is now in trend and the best part about it is that you don't have to pick just one stone — instead, you can have an array of colourful gems adorning your beauty.
Every story has a beginning — and a journey through the milestones.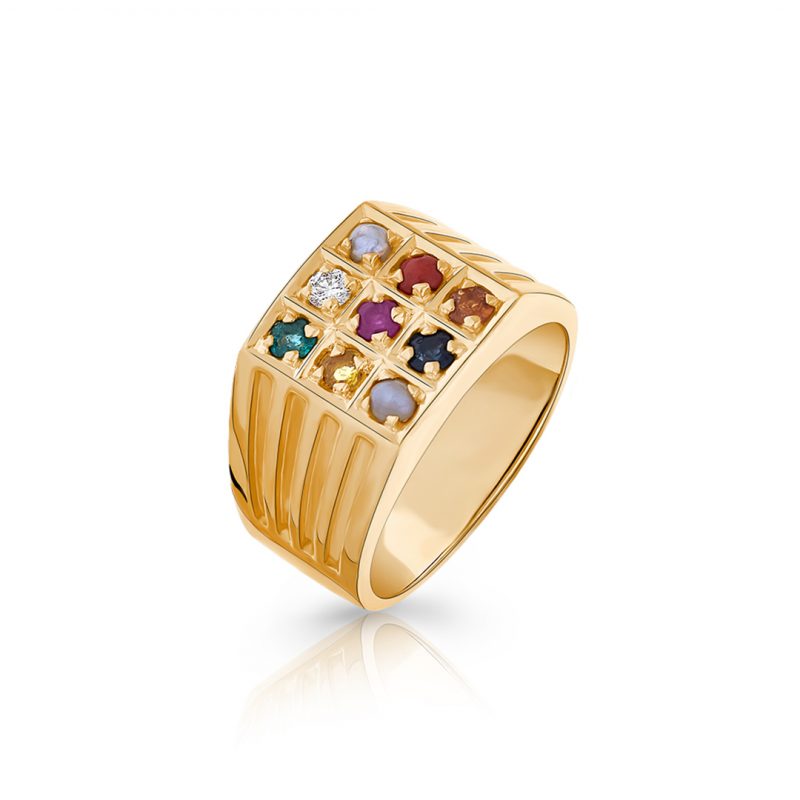 There's nothing like receiving a beautifully wrapped gift with a mystery of what's inside — and there is nothing more satisfying than finding a dazzling piece of exquisite jewellery in that little enigmatic box. Curated with expert craftsmanship, in our opinion, this 18K diamond ring is a beauty made in heaven — that can stand the test of time and money.
Picking out jewellery for someone can be hit-or-miss, considering everybody has their personal choice and style. Of course, the safest bet will be to gift a piece of jewellery that fits seamlessly into their everyday wardrobe — and these 18K diamond luxury gifts are ultra classy and something very special indeed.
Shimmering wrists — with dazzling diamond bangles and bracelets.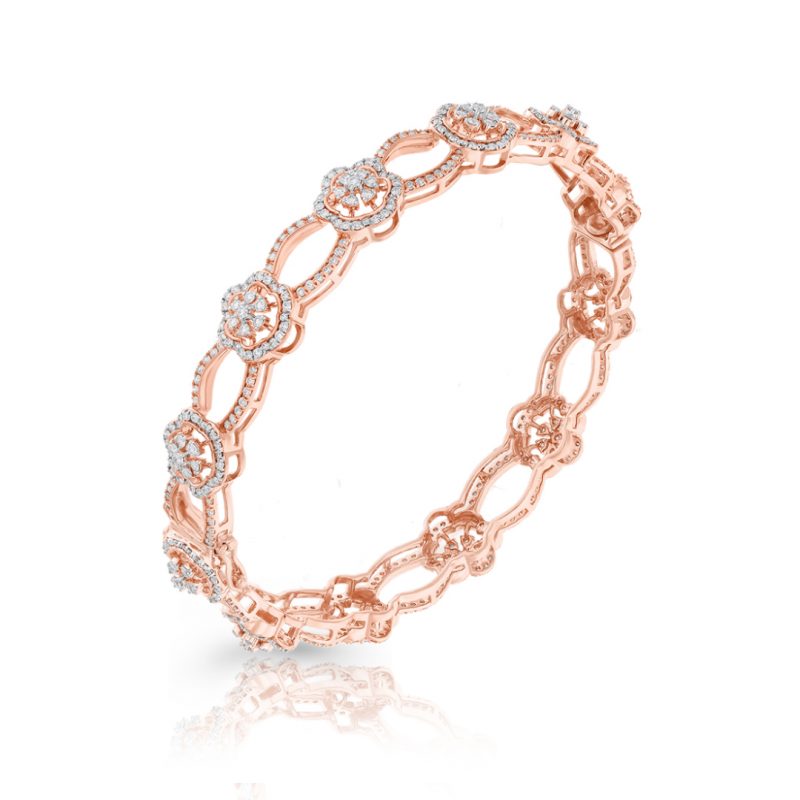 An adorned wrist — the tinkle and twinkle of the bracelets and bangles is something that is easy to love and impossible to forget. They are versatile and work wonders for your everyday wardrobe. It is unique and posh and a perfect gift to be remembered forever. Let it be a single delicate slender or a stack of stunningness, they are a great way to celebrate someone's personal style and fashion choice.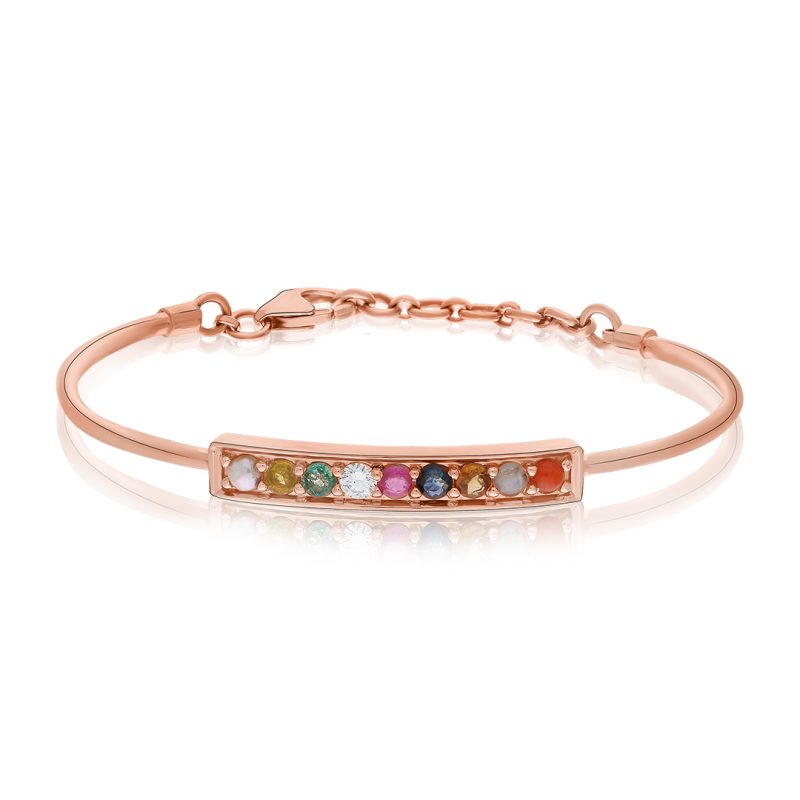 Choose the right gift and it will be an investment for life. Unlike fashion jewellery, fine jewellery is durable and can embellish any look and style. The combination of gold and diamond offers quality and class that can't be matched by any ordinary fashion jewellery. So pick the pieces that they will truly adore and that represent the pinnacle of high jewellery creations.
Blue stones — for a world of glamour and sophistication.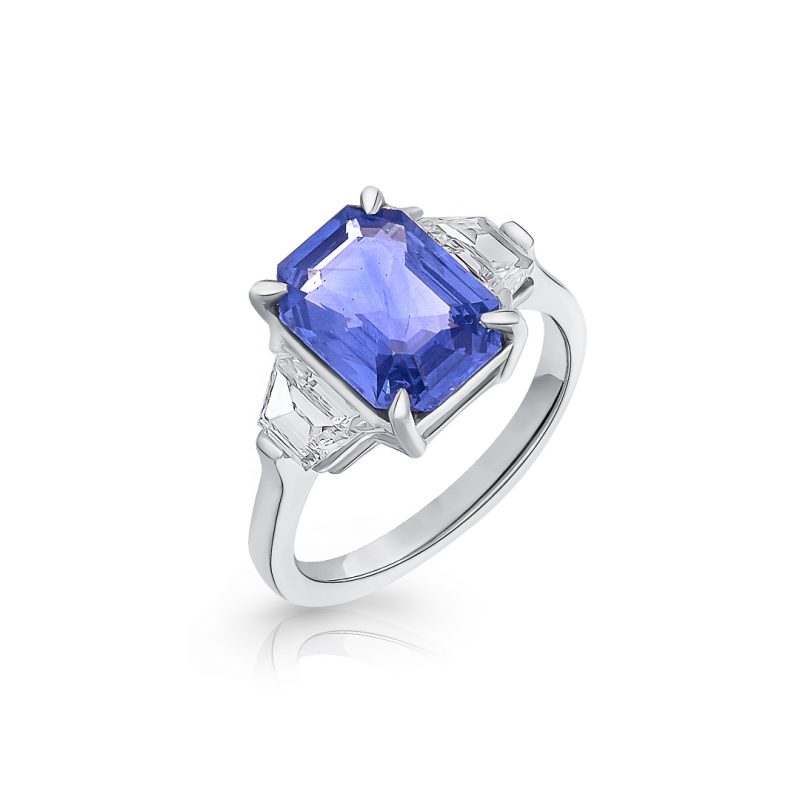 Blue gems are popular for a reason. They are versatile, electrifying, modern and feminine. Combine them with gold (yellow or white) and they make wonderful and exciting jewellery.  Among the different blue-coloured gemstones, blue sapphire and aquamarine are the most famous and are perfect if you are looking for a light, royal and bold vibe.
Rather than making a statement with the size of the gemstone, you can show your affection by choosing a gift that shows pattern and colour .
Say it with a Heart — It's super romantic and heart-melting.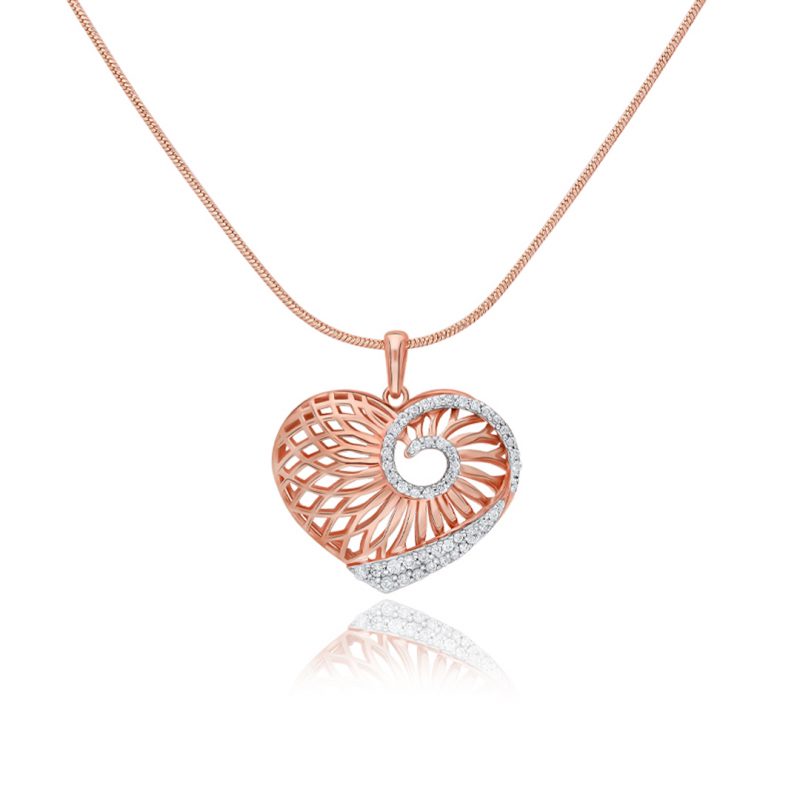 With its bold heart design and intricate meshwork, there is no mistaking the romance of this beautiful 18K rose gold clarity amity mesh diamond pendant. Individually, the heart shape and diamonds are two universal symbols of eternal love, romance and unbreakable bond. And if you combine the two, it could be an ultimate declaration of love. When she wears it, it will be as if she is keeping your heart right next to hers.
Take things up a notch and impress your partner with a dazzling pendant.
Heart-shaped jewellery designs are a highly sought-after present and the most romantic of all jewellery shapes. They are symmetrical, versatile and are an absolute winner with women today.
White gold and platinum — the cooler soothing tones of metals.
White gold and platinum have a beautiful sheen and both look wonderfully luxurious when paired with diamonds and gemstones — especially emeralds and sapphires! They can make the vibrant coloured gems look even more stunning and bring out the beauty of gemstones perfectly. Hence they are the most favoured metal for engagement rings.
Eye-catchy and untraditional, the white metal has a cosmopolitan appeal and suits every skin tone beautifully. Recent wedding trends show couples opting for metals like white gold and platinum rather than traditional yellow gold.
Rose Gold is my new obsession — a new trend that just won't go away!
If you look around, you can see rose gold getting featured everywhere. It is considered one of the most romantic metals for a diamond, especially because of its peachy-pink colour. They are long-lasting and can compliment any skin tone. They are made by blending pure gold with copper — thus giving them strength, durability and colour.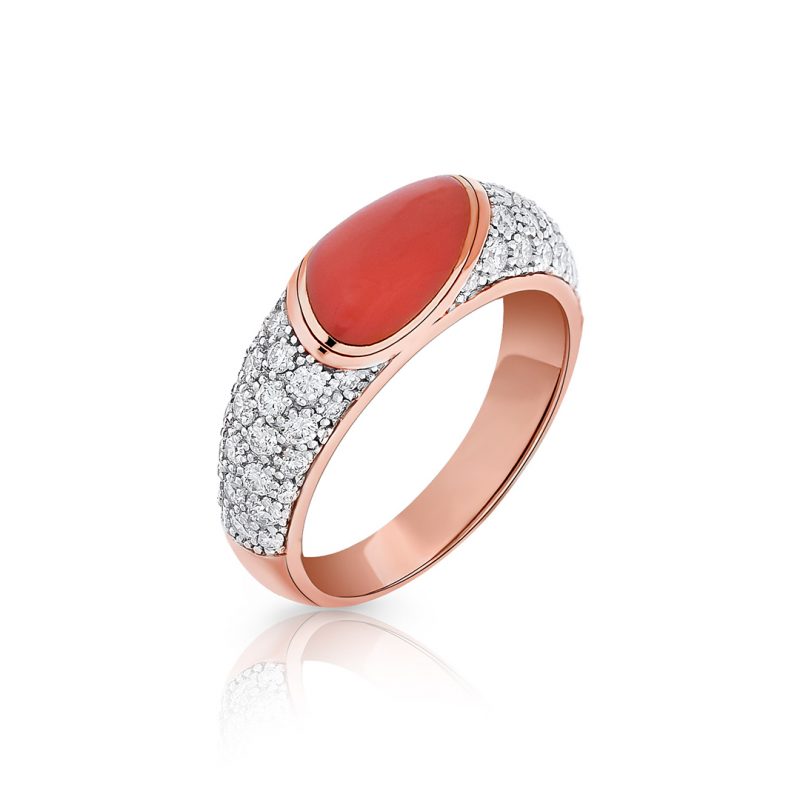 Rose gold has made a significant comeback in the past few years and is now the most sought-after choice of metal for both men and women. Its subtle and gentle hue is luxurious and glamorous — and there is no other metal that sounds as romantic as the rose gold.
It's a pleasure to receive a gift, whether it's expected or not, large or small, or needed or not. Receiving a beautifully wrapped gift is always a joy. An intimate gesture of giving a friend, family member, or partner a piece of jewellery is a way of expressing deep and steadfast love. It will last a lifetime, and when they see it every time, they will be reminded of you.
For more information or to start creating your own custom design, contact us today and tell me about your special someone.
The Internally Flawless diamonds from Sunny Diamonds are perfect for any occasion. Handcrafted to perfection, our collections are available in various diamond colours and precious metals. We promise beauty, rarity, and responsible sourcing with each design at Sunny Diamonds.
Discover our stunning range of Sunny Diamonds jewellery collections.