DIAMONDS AT THE BEST PRICE FROM SUNNY DIAMONDS!

Diamonds are handpicked and cherished for their brilliance, but their value is also significant. With a comprehensive understanding of the factors that influence diamond costs, you can make an informed decision that suits both your style and budget as seamlessly as ever!
Major players in the business
Unlike other stones, diamonds have a fixed international market price. They are always graded according to the standards set by GIA before their worth is determined. Even though the 4Cs are the most widely used grading system, a variety of other factors also determine the diamond value.
From mining to wholesalers to retailers, diamonds pass through the hands of multiple intermediaries. Before the diamonds are sold at retail, each of them takes a cut that would profit their part in the business chain.
Through a careful understanding of the market by engaging with merchants regularly and learning how much customers are ready to spend, retailers markup their diamond price, and the jewellery is then sold at whatever price they desire. To overcome this over-pricing for your
diamonds, it is always better to make your purchase based on price comparisons at your nearby diamond stores.
What is the original value of your diamond?
The truth is that the amount you paid for your diamond and its initial worth is going to be quite different. In the diamond industry, major brands always pump up their prices by 8-10 times the real price. This is because these retailers source their diamonds mostly through multiple middlemen, as we discussed above, who each marks up the price. As a result, they are unable to provide you with actual factory prices for their diamonds.
At Sunny Diamonds, we have constantly adopted a different approach to source and sell diamonds to make luxury accessible to customers at a fair price. We always purchase diamonds at a lower price than the actual market price to sell directly to our loyal customers; passing on the cost savings gained from sourcing, without the need for middlemen or additional markups. To deliver a hassle-free and trusted buying experience, we only deal with the finest clarity diamonds and the highest quality craftsmanship, without charging any standard markups on our jewellery.
How do Sunny Diamonds stand apart from brands?
Our commitment to assuring the best price to all our valued customers is underlined by our fair pricing strategy. As you might always have experienced the stress of unnecessary bargaining to meet the fair price for the diamonds purchased, many still pose the concern that the actual price paid is higher even with the discount promised to clients based on their bargaining.
Sunny Diamonds intend to address this concern and provide the clarity that was required. We, through our fair pricing strategy, strive to provide you with quality diamonds for the best price in the market.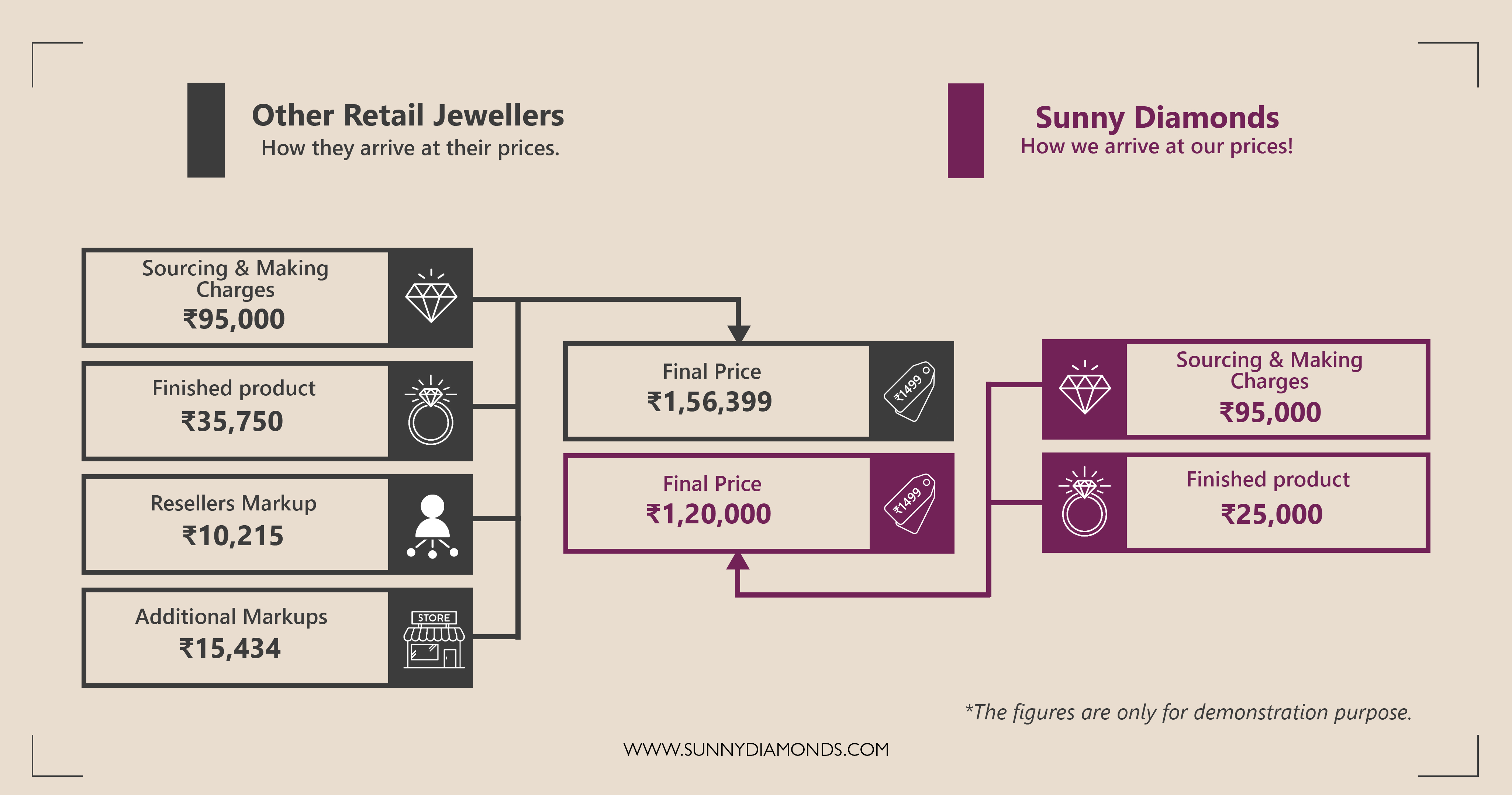 Why are Sunny Diamonds worth the fair price?
Every diamond, whether natural or lab-grown, is rated in quality according to the Gemology Institute of America's guidelines (GIA). These guidelines address the f our Cs of diamonds: cut, carat weight, colour, and clarity.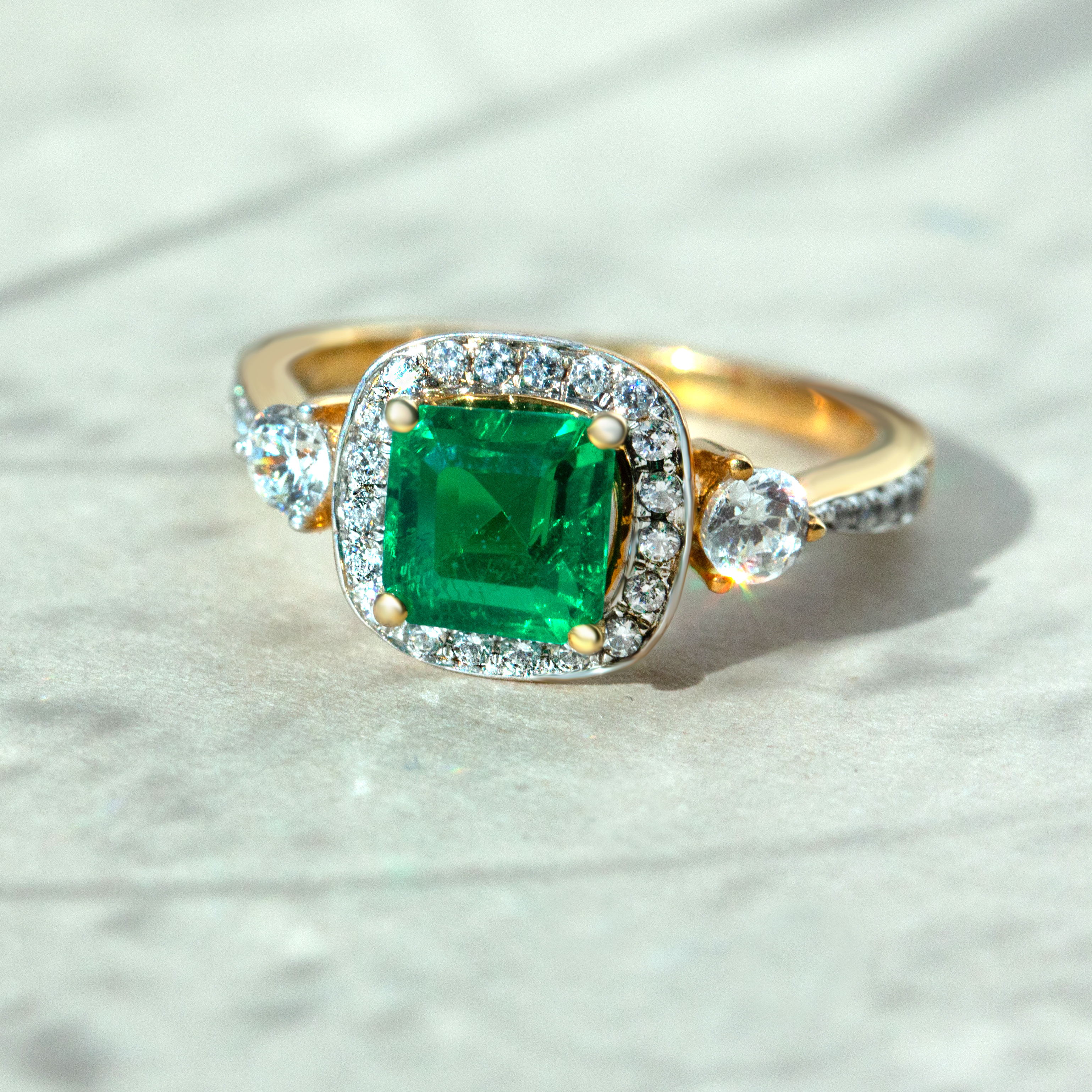 Internally flawless diamonds (IF) are as rare as they are gorgeous, sitting at the top of the GIA clarity scale. Internally flawless diamonds are often sought-after by investors and collectors, due to their high pricing and rarity. Sunny Diamonds' fair pricing method, on the other hand, enables you to own your internally flawless diamond effortlessly; a special privilege otherwise enjoyed by very few.
Sunny Diamonds is the only jewellery retailer in India that sources IF quality diamonds directly from Belgium and uses them in jewellery with Excellent Polish, Excellent Cut, and Excellent Symmetry (EX.EX.EX rating).
Internally Flawless diamonds of outstanding grade, known for their extraordinary clarity and beauty. In addition, all of our gems come with diamond grading certificates that are recognized worldwide. Even with their exceptional clarity and beauty, along with internationally recognized diamond grading certificates, our IF diamond jewellery doesn't exceed your dream price!
Apart from the fair price strategy, Sunny Diamonds also makes sure that you get the maximum value out of each diamond jewel you purchase from us. For that, we also extend, 100% money
back guarantee and complimentary maintenance and cleaning on all our brand assured
hallmarked jewellery.
Visit your nearby Sunny Diamonds showroom today to experience the maximum benefits of purchasing your dream diamond jewellery at a fair price that you would never ever grab from any other store in India!